Dallas is a TOP global location for young professionals. The numerous restaurants, social-vibe, fun bars, retail stores, and friendly community make the West Village Dallas area a particularly popular destination for young professionals. If you are searching for Uptown Dallas apartments, be sure to look for apartments in West Village.
Uptown Dallas Neighborhoods
Finding a beautiful spot to call home is as easy as searching for Uptown Dallas apartments in the following areas.
After you read the below insider info, sign up for our 100% Free-to-You Service to find your perfect apartment in Uptown or nearby areas (Lower Greenville, Knox Henderson, Deep Ellum, etc).  Our free, quick service will save you hours of time and remove your stress.  Free Signup: HERE      When you apply for your apartment, you will also receive a free $100 Amazon card as well as a thank you for using our free service.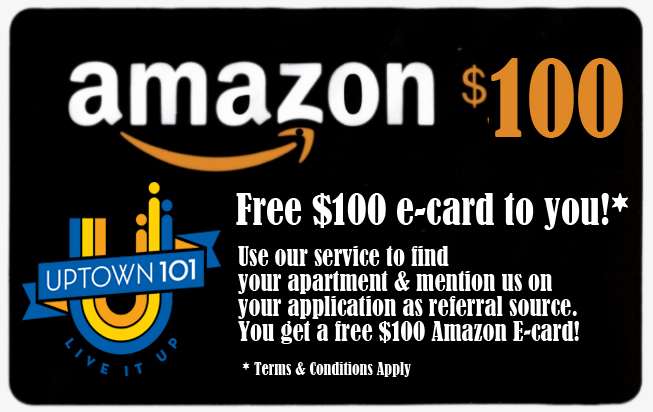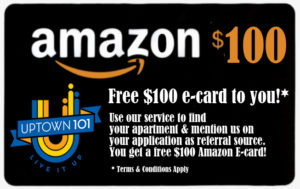 The West Village Dallas section of Uptown Dallas is a great place to call home. This fantastic neighborhood is home to the West Village Dallas mega shopping complex. This outdoor shopping area is filled with stunning boutique shops, restaurants, and even a few popular night-time hangout spots. In fact, due to popular demand the shopping area has recently been expanded to directly connect with the Uptown Trolley / Dart Rail stop. This new improvement makes it extremely easy for residents to travel to and from the shopping complex.
Bring Your Walking Shoes to Promote an Active Lifestyle
While many Uptown Dallas apartments are conveniently located to public transportation stops, the majority of residents prefer to don a pair of comfortable shoes and walk to their chosen destinations. Living in West Village Dallas will give you access to stores, restaurants, bars, parks, and more, all within an easy seven minute or less walking distance. Below are just a few of the popular destinations that you can easily walk to in West Village Dallas.
Grocery Stores – The West Village section of Uptown Dallas features two grocery stores, Albertsons and Kroger Fresh Fare. Both of these grocery stores are stocked with organic, fresh products.
Uptown Dallas Trolley – This free public transportation trolley is your access to and from the other neighborhoods in Uptown Dallas. The trolley runs during most hours of the day and night, making it easy to go out for a night on the town, before taking a free ride home.
Katy Trail – Katy Trail is a beautiful hiking and biking trail that winds its way through Uptown Dallas. It is a popular way to get exercise and to meet new people. Many Uptown Dallas apartments are located within a seven minute walk to Katy Trail
Enjoy West Village's Fun Atmosphere
Like the majority of Uptown Dallas neighborhoods, West Village features a social atmosphere that is high-energy and full of fun, interesting people. People can consistently be seen walking to and from stores, restaurants, or just stopping to chat on the side walk. West Village is also a popular tourist destination, due to its abundance of fun dining and shopping experiences. It is also a great place for dog lovers, with a number of pet-friendly establishments.
West Village Dallas is home to the largest variety of Uptown Dallas apartments. From mid rises to high rises to traditional apartment complexes, you can find your dream apartment in the West Village. Generally speaking, West Village apartments tend to be priced fairly. Be prepared to find hardwood floors, granite countertops, garage parking, and air conditioned hallways in many of the apartment complexes.
With all of these great perks in mind, it is easy to see how Dallas has ranked as the fifth best city for young professionals. If you are looking to move to Uptown Dallas, be sure to check out the beautiful apartments that are listed on a daily basis. And, if you really want to enjoy a social atmosphere that is walking-friendly, look for your next apartment in West Village Dallas!