State Thomas Dallas section of Uptown Dallas: Easy Does It
Each of the four sections of Uptown Dallas have a very unique feel. The section I will be covering in this article is the State Thomas Dallas area, an established and beautiful area of Uptown Dallas.

After you read the below insider info, sign up for our 100% Free-to-You Service to find your perfect apartment in Uptown or nearby areas (Lower Greenville, Knox Henderson, Deep Ellum, etc).  Our free, quick service will save you hours of time and remove your stress.  Free Signup: HERE      When you apply for your apartment, you will also receive a free $100 Amazon card as well as a thank you for using our free service.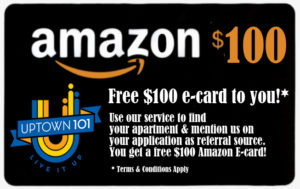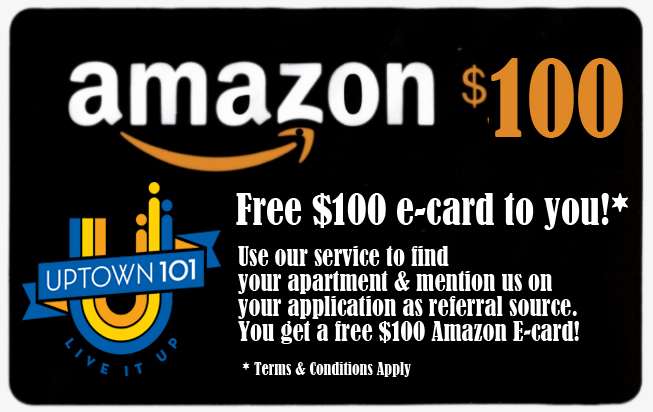 Neighborhood/Socially Speaking
The State Thomas Dallas area has a cool neighborhood feel. However, just because the State Thomas Dallas area has more of a neighborhood feel, that doesn't mean it is the quietest, FYI! J The social speed here is still VERY Uptown Dallas in feel, just a little more laid back. The main focus of this section of Uptown Dallas is the residential, neighborhood feel vs. the high-rise or mid-rise feel that is prominent in other parts of Uptown. State Thomas Dallas has more of a homey vibe to it as compared with other areas, but it still has McKinney Avenue on the west side of it, which is alive and hopping every day of the week. Most residents of State Thomas Dallas socialize freely with their neighbors. It is a very friendly, laid back community. You will often see people walking, jogging or walking their dogs on the smaller side streets of State Thomas Dallas, always with a warm and welcoming greeting.
Main Attractions – How does it do?
One of the articles I've written mentions the 4 key attractions of Uptown Dallas. It's going to be a quick drive to any of these. As far as being able to WALK to any of these 4 attractions, let's see how State Thomas Dallas scores in terms of being able to walk to these attractions:
Katy Trail – It will take you about 8 minutes minimum and sometimes up to 20 minutes to walk to the Katy Trail.
West Village – It's not truly walkable to get to the West Village from most points in State Thomas Dallas, being over 20 minutes.
Uptown Dallas Trolley – Some places are as little as 5 minutes to get to the Trolley, while others can be 17 minutes or more.
McKinney Avenue Night Life – Some places are as little as 5 minutes to get to the mid-section of McKinney Avenue, while living in other places will take you up to 17 minutes. The mid-section is the point that contains the more well-known night life, such as the Black Friar Pub, Idle Rich Pub, Sfuzzi, Jake's, etc.
If quick walking access to these attractions is important to you, please give us a call so we can advise on which location is best for your needs.
Easy Access to Freeways and Uptown Dallas
The State Thomas Dallas area of Uptown Dallas is just south of the West Village area. This district is flanked by the North Central Expressway on the east and the Woodall Rogers Freeway on the south. McKinney Avenue runs the length of the west side of State Thomas Dallas. Easy access to all freeways makes State Thomas Dallas a very convenient location for commuters, as either freeway is less than five minutes' drive from anywhere in the district.
Just on the other side of the Woodall Rogers Freeway is downtown Dallas (with many firms located there such as Deloitte, PWC, Ernst & Young and KPMG, Boston Consulting Group and many other downtown firms) and across the North Central Expressway is the ever popular Knox-Henderson area. In addition, you can also take Woodall Rogers to the Dallas North Tollway if you are heading to North Dallas or Plano for work, or take Lemmon Avenue directly.
Sometimes getting to other parts of Uptown Dallas can take longer here than in other areas of Uptown. Access to parts of McKinney Avenue (which cuts through Uptown Dallas) is one way, so it can take a while to drive quickly to other parts.
In a similar way, if you want to be able to walk to everything, it will take longer to walk to most of the other parts of Uptown Dallas. In some areas it can take up to fourteen minutes to walk to McKinney although from other areas it may take under seven minutes. But it is a very quick drive, regardless.
Once you reach McKinney Avenue, you can reach the mid-section of McKinney Avenue venues, particularly restaurants and bars, by quick walking in under seven minutes. You can also access any other section of Uptown Dallas using the M Line Trolley, amazingly free access that operates until midnight on the weekends.
Restaurants and Bars
The State Thomas Dallas area has its own unique restaurant and bar scene, including popular hangouts like The Rustic, State & Allen Lounge and The Nodding Donkey. The hot spot for live music is at the Rustic, Uptown's only true live music venue. The Rustic has an outdoor stage for the bands, with indoor as well as outdoor picnic-style seating and a large grassy area to sit and enjoy the evening with food, drink and live music. The State & Allen Lounge has a full menu and wine selection, with a lovely Saturday and Sunday weekend brunch from 10 a.m. to 3 p.m. There is plenty of grass in State Thomas Dallas, and spaces to sit and chill or bring your dog just to sit in the grass and take in the scenery.
Most urban settings are completely void of grassy areas; State Thomas Dallas is just the opposite. In the heart of the Dallas metropolis, State Thomas Dallas is like a piece of the suburbs transplanted in the middle of an urban setting, only with the added benefit of being close to McKinney Avenue which is the pride of Uptown's nightlife.
Layout
The State Thomas Dallas neighborhood has the most small side streets. This may be important to you if you are looking to live in more of a neighborhood setting in Uptown. State Thomas Dallas gives you just that, with all the other perks of living in Uptown Dallas. There is MUCH greenery here, which provides many places to walk a dog. A lot of residents like to walk and jog the side streets as well. Jogging the streets of State Thomas Dallas is a nice alternative to running on the Katy Trail; in fact, State Thomas is the best place for jogging in Uptown Dallas second only to the Katy Trail. As with any neighborhood, there is a nice, relaxed community feel to this part of Uptown Dallas, with block parties as well as a neighborhood watch.
State Thomas Dallas also contains a large historical cemetery section that provides a very nice sound buffer to Uptown Dallas. This is not an active cemetery, and thus is very well tree lined and pleasant.
Apartments
As far as apartments go, there is a wide range of choices available, including some moderately priced options, beautiful Florida resort style selections and townhomes. The State Thomas neighborhood is home to a nice mixture of expensive townhomes for purchase and more moderately priced, good value apartments and apartment managed townhome communities. . One excellent hint: If you are interested in a townhome, the apartment managed communities will lease one for well below the market price for the occasional one that comes on the market from an individual. The smart way to go is to select a townhome from a managed community. Call us anytime for our thoughts to get you the best value on that!
Most apartments in State Thomas Dallas include amenities like pools, indoor and outdoor dog parks, views of downtown and social planning committees to organize social gatherings for their residents. This Uptown Dallas neighborhood is appealing, with a cozy community atmosphere many people look for when choosing a place to live.
Summary
The Uptown Dallas neighborhood of State Thomas Dallas is conveniently located adjacent to downtown Dallas. It features some of the finest restaurants, art galleries, antique shops, boutiques and five-star hotels. This area is often referred to as the heart of the Dallas Arts and cultural scene. There is easy access to the M Line Trolley and lively atmosphere of McKinney Avenue. This residential neighborhood was restored to resemble Boston Brownstones with the elegance of Park Avenue. This section of Uptown Dallas offers urban living at its finest, with plenty of green space and nightlife all its own.
Suffice it to say, State Thomas Dallas has many attractive reasons to consider it as your place to live in Uptown: residential living in a neighborhood setting; quick and easy access to two major freeways for commuters; moderately priced apartment and townhome living, and all the perks of living Uptown, with endless shopping, dining and entertainment options. The tree-lined streets of this neighborhood will instantly feel like home, while still being only minutes from the rest of Uptown, downtown and other popular areas of the great city of Dallas.
Ready to find your perfect Uptown Dallas apartment?  Free Signup Here: Uptown Search.  Our service is 100% Free and we will find your perfect place to start your Uptown Dallas adventure. Talk to you soon in Uptown.