1900 McKinney Avenue Apartments – REVIEW
After you read more insider info about this apartment, sign up for our 100% Free-to-You Service to find your perfect apartment in Uptown or nearby areas (Lower Greenville, Knox Henderson, Deep Ellum, etc).  Our free, quick service will save you hours of time and remove your stress.  Free Signup: HERE 
When you apply, you will also receive a free $100 Amazon card as well as a thank you for using our free service.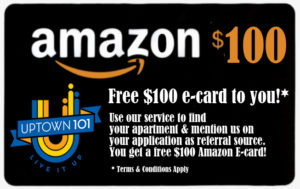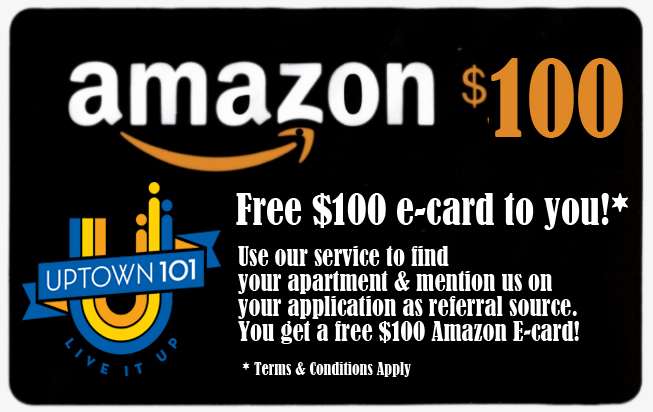 LOCATION
The 1900 McKinney Avenue apartments (high rise) in Uptown Dallas are higher end, sophisticated and quiet. The building is recently built (2009) and includes the full amenities that might be expected in a newer high rise building, such as a parking garage and a 24 hour concierge. 1900 McKinney Avenue is on the very edge of Uptown, almost where McKinney Avenue ends. Although it is not in Downtown Dallas, it is so close to it that it would be an excellent location for quick entry and exit to Downtown Dallas, without the hassles of living in Downtown.
1900 McKinney Avenue apartments are surrounded by a few shorter mid-level office buildings, but they are not "skyscrapers". So, you don't feel like you are in downtown, and you have better views…which is a good thing! The amount of traffic by the 1900 McKinney Avenue apartments is going to be lighter as well, because this is a section of McKinney Avenue that isn't traveled as frequently. One you get past Pearl and McKinney, the traffic gets much lighter. So, it would be somewhat similar to living near a "dead end street" here in terms of traffic…there will be some, but not anything like other areas of Uptown or Downtown. To sum it up: This is a quiet way to enjoy Uptown and also be next to Downtown for work!
Something you will notice right away about 1900 McKinney Avenue…it feels safe! This is a quiet area and there are not any bars or other night style retail around it. Also, the area is very clean and prosperous looking overall. I could picture walking at night here and not feeling concerned about safety in general.
Getting to work: If you work in Downtown, well, you are basically directly connected to it. The 1900 McKinney Avenue apartments is right on McKinney Avenue, and it borders Woodall Rogers. Woodall Rogers directly separates downtown Dallas from Uptown Dallas. You essentially are right there in Downtown Dallas, and can frankly even walk to it, if you work in Downtown Dallas. To make it easier, the McKinney Avenue Trolley goes right by the 1900 McKinney Avenue. So, If you work in North Dallas, or need to get to the DFW airport frequently, you have a very quick access to the North Dallas Tollway using Cedar Springs. You are on the Tollway in a few minutes…and can then zoom to North Dallas, West Plano or the North Dallas Tollway.
Access to the 4 Key Features of Uptown Dallas: There are 4 Key Features of Uptown Dallas that give you access to a wonderful social life. For Uptown, the key is to be in QUICK walking access to these features. We think quick walking access means to be in 7 minutes walking or under. Here is how 1900 McKinney Avenue apartments does in terms of being able to walk to the 4 Key Features of Uptown:
Uptown Trolley – Being close to the Uptown Trolley is important, because it can take you to all of the other major features of Uptown Dallas. The Uptown Trolley literally drives right outside the door of the 1900 McKinney Avenue apartments! J
Night Life in Mid-Section – Many people think of a "super cluster" section of night clubs along McKinney Avenue around Boll Street as the "night life" of Uptown Dallas. While this isn't the only area of Uptown, it is the area with the most night clubs in one small section. The 1900 McKinney Avenue apartments is NOT within quick walking distance, but it is a super quick trolley ride to them.
West Village – 1900 McKinney Avenue is on the border of Uptown Dallas, at the most south point of Uptown. In the NORTH of Uptown Dallas, there is the WEST VILLAGE, with so many shops and restaurants, all in a few blocks. The West Village is NOT in walking distance to 1900 McKinney Avenue. However, it is a quick trolley ride to get there, or a quick drive.
Katy Trail –The Katy Trail is a wonderful semi private running trail that goes through Uptown Dallas. Residents of the 1900 McKinney Avenue can quickly get to it using the VICTORY OVERLOOK entrance down McKinney Avenue and then just a bit under that. This is not in quick walking distance, but is probably about 10 minutes walking. Not bad…
Walk to Groceries? No, not in this case. The best bets for getting groceries will be:
Albertsons' on McKinney Avenue (8 minutes' drive)
Whole Foods on Lemmon (take the Tollway north to Lemmon, 8 minutes max)
Overall Location: The location here is a good one for quick access to Uptown Dallas and Downtown Dallas. It is also a good one for keeping away from excess noise of the "bar scene" up North on McKinney Avenue. But, it is also good because you can quickly drive to entertainment as well. It has some limitations for weekend and daytime enjoyment in walking distance (West Village, Night life, etc.), but a quick drive or trolley ride can take care of that.
Now, what about the social scene at the 1900 McKinney Avenue apartments?
SOCIAL SCENE
The social scene of the 1900 McKinney Avenue apartments is good, but quieter than other Uptown Dallas Apartments. If a main goal of living here is to meet people here, you will find moderate choices to do that, but not as many opportunities as other Uptown Dallas Apartments. Here are the reasons:
Area is attractive: This is really a beautiful area of Uptown/Downtown. I like it much better than downtown, definitely, because it is clean and attractive…and as I mentioned previously, feels safe. This helps in creating a good social scene.
DOWNTOWN has Options: There really are quite a few places to quickly get to, and being closer to downtown makes that even easier. There is the obvious: sports (Mavericks, Stars) and live concerts at the AA Center that is in WALKING distance. You can also visit the Arts district that is just about 4 minutes away. You also have Klyde Warren Park, Perot Museum, and the Katy Trail entrance. Translate: Plenty of "cool, trendy" places to enjoy.
Restaurants and Clubs NOT in QUICK walking distance: There are not a lot of restaurants in quick walking distance. No restaurants directly border 1900 McKinney Avenue, nor are they across the street or directly nearby. It will take a free Trolley ride or a quick drive to go just a few minutes up McKinney Avenue.
Building Setup: 1900 McKinney Avenue is a central building and it offers many interaction points for you to meet other neighbors. It has a common entrance that everyone passes through, along with a common mailbox area and a common parking garage. There is also one main set of elevators and building access. You will have plenty of opportunities to meet others here with the smart building setup.
Monthly Activities: Many Uptown Dallas apartments have some sort of social outreach to residents. The 1900 McKinney Avenue also provides those outreaches. They have a monthly social event and it is usually OFF SITE, so you can get to know other parts of McKinney Avenue and Uptown Dallas. They also include 2 other sister properties in their outreach, which gives more potential people to include.
Size: The 1900 McKinney Avenue apartments has 27 stories, but only 230 apartments. That is not much for each floor. You get a lot of breathing room for each floor and a good amount of privacy well.
The Amenities: The amenities of 1900 McKinney Avenue apartments are well above average for Uptown. The amenities floor has a very social pool setting and gym, and is one of the best terrace pools in Dallas. These attractive amenities will draw people to them, giving you opportunities to meet people.
To sum it up: The location itself is quieter, and it is not located in walking distance to social scene attractions. But the building amenities and the monthly activities help in meeting people.
APARTMENT
Style: The style of the 1900 McKinney Avenue apartments is modern but warm. The apartments have charming, attractive kitchens with darker wood and lighter tile floorings. The living rooms tend to feature lighter hardwoods. And, the design includes floor to ceiling windows, giving a lot of light in most rooms! There are some very attractive kitchens, living rooms and bath areas, complete with beautiful floors, sparkling appliances and other innovative features. They really get the modern feel right, but it's a warm modern, not modern for modern sake.
Variety of Floor Plans: This is a high end, luxury high rise, and the one bedroom floorplans start typically in the $2000s. However, there also are the 2 bedroom floor plans and floorplans with a study. The study floorplans are a bit disappointing, because they are the type that are "open" study…they don't close off to form a separate room that could be used for a guest room. And, of course, since this is a high rise, there definitely are some huge penthouse suites.
Strengths: The 1900 McKinney Avenue apartments have these strengths:
Gorgeous Kitchens – The kitchen is very warm and inviting. I like the brown and white checkerboard tile backsplash. And the dark wood cabinets even include some shaded glass fronts.
Granite Countertops – Attractive and lighter colored.
Hardwood Floors – Throughout the larger living rooms.
Patios/Balconies INCLUDED – The living room typically includes a patio/balcony of a NICE size…it's not a postage stamp. You can have a couple of chairs comfortably out here.
FLOOR TO CEILING GLASS – The glass separating the living room from the Patio is floor to ceiling. It brings in a LOT Of light, very nice!
Newer appliances – Stainless steel appliances, and higher tier brands as well.
Decent size Closets – These closets are decent size, not huge. They have a LOT of shelving.
Programmable Thermostat – YES, included. This makes it more convenient if you travel a lot…you can program the thermostat to be working less when you are away, saving on utility bills. One of the very few in Uptown that have this feature.
Washer/dryer INCLUDED – Definitely included.
Walk in Showers – INCLUDED, thank you!
Normally I always mention AREAS OF IMPROVEMENT. The 1900 McKinney Avenue apartments didn't have much to speak of, with the exception of:
No Gas – Really would like to have seen gas ovens here. Not that the oven was bad, it was nice. But, just not gas.
No Balconies on a few units – a few of the units do NOT have the balconies mentioned above
Different Windows – a few of the units do NOT have the floor to ceiling windows mentioned above
Overall, this is modern, beautiful apartment with few flaws.
AMENITIES
The amenities at the 1900 McKinney Avenue apartments are I think at just about the perfect level for an elegant high rise. This is not the largest set of amenities in Uptown. But, what they do include is done very well. They also include the important features you would need. Please see our REAL VIEWTM Gallery for photos!
Let's take a look at some of the Strengths:
Rooftop Terrace – Directly outside the gym is one of my favorite terrace pools in Uptown. The pool has an unusual non symmetrical shape and it just looks cool, hard to explain. There are plenty of chairs out here, and plenty of room. There also is a lot of privacy out here. This is just a great place to relax.
24 Hour Concierge – With a high rise, a concierge service is EXPECTED. However, a 24 hour concierge makes things even nicer, especially if they are knowledgable. Nice to have this feature!
GUEST parking INCLUDED: Guests CAN park for free in the garage. Very nice plus!
Parking for 2 in a one bedroom: They will allow both cars to park in the garage at no extra cost if you have 2 occupants in your one bedroom.
PARTY ROOM – The party room is separated from the building, on the other side of the drive that leads up to the entrance. It is large and great for holding social gatherings. I love the older style (but new) bar stools too, with the metal pole. It is also rentable for a small fee and a deposit.
Views of Downtown – And, yes, this is a high rise! You will have great views of either downtown or Uptown or North Dallas, depending on your location. A few buildings are nearby, so lower floors may have partially blocked views. Most of 2 bedrooms face downtown Dallas, while three of the 1 bedroom plans face downtown.
LEED CERTIFIED – This is one of the very few buildings in all of Uptown Dallas to be LEED certified. This means energy efficiency and green friendly. It is silver level, meaning no smoking. A LEED building will typically mean 25% lower energy bills than a non-certified building.
NO Amenity Fee – Very nice…and unusual for how many amenities are included.
Attached Garages – directly attached private garages are available, but take note: They are in high demand and go for an extra $300 a month.
Here are just a few AREAS OF IMPROVEMENT:
GYM – The gym is a little smaller than it should be. It does have ellipticals and 2 treadmills, but not much else. Not much at all for free weights. Anything other than a quick run means you need to join a gym nearby.
Pet Rent – They do charge $25 a month for pet rent, per pet. That's the highest fee I have seen in Uptown. Same as the amenity fee…not a huge amount, but it still is a fee. This is not the norm, but several places in Uptown definitely charge for your pet each month.
Overall: Amenities are ABOVE average for Uptown.
SUMMARY
The 1900 McKinney Avenue is a newer, modern high rise in a quieter area of Uptown Dallas. It is distinctive and elegant and has beautiful apartments with a great deal of light. It doesn't have as much entertainment to quickly walk to. However, the inner amenities and planned social activities will make it easier to meet residents and other professionals in Uptown Dallas.