Hot Spot Smack Down Part 3 – Uptown Dallas vs Downtown Dallas
In other cities, the Downtown area is always the most popular area for professionals; cities like NYC, LA and Chicago for example. Dallas is different in this respect. Uptown Dallas is unique in that it encompasses a lifestyle around business, culture and entertainment for young professionals, which does not exist downtown. Uptown Dallas is where professionals just out of college prefer to be; once they experience Uptown Dallas they end up staying and loving it.
This is a comparison between Uptown Dallas vs Downtown Dallas living in Dallas, Texas.
THE SOCIAL SCENE
Uptown Dallas is alive, from morning until late into the night, every night. Your Uptown Dallas experience is likely to remind you of your college days, just a lot more polished. Take a stroll down McKinney Avenue in the evening and you will hear the sounds of lively chatter, laughter, lots of music and people unwinding after a day at the office. Picture lots of patio seating, with tables of friends having dinner and drinks, sharing stories of their days and running into other people they know, making introductions and socializing. Perhaps one of Uptown's most appealing aspects, its social scene for young professionals just cannot be beat.
Downtown Dallas is definitely bustling during the day with commuters and professionals, but is all high rise buildings and parking lots. There is hardly any green space or anywhere for friends or co-workers to gather outdoors. The recent addition of Klyde Warren Park on the north end bordering Woodall Rogers does help in giving some greenery, definitely. However, after five o'clock traffic settles down,
Downtown Dallas is predominantly vacant, leaving it feeling cold and isolated. The club scene downtown centers on the Elm St. area, also known as Deep Ellum, Texas. Deep Ellum is geared more towards an all-ages crowd which is comprised mainly of young teens and these venues permit no smoking or alcohol for this reason. There are a handful of clubs for the over twenty-one crowd but none that cater specifically to young college-graduate professionals. Some of the bars downtown are Scotty's Elm St. Saloon which features a stage, a pool table, darts and shuffleboard, as well as several televisions; there is the Union Park Gastro Bar which serves beer and food as well as The Original Italian Café on Field Street, which serves Italian cuisine but doesn't have regular in-dining hours. It is mostly known for its take-out service menu. Uptown Dallas vs Downtown Dallas – Advantage, Uptown Dallas!

EATS, MEETS and GREETS!
Uptown Dallas restaurants and attractions cater specifically to the 22-28 age range, particularly venues like the Belly and Trumpet in the West Village or The McKinney Avenue Tavern in Victory Park. All Uptown Dallas establishments have designed the atmosphere and services with the progressive, urban professionals in mind. According to D Magazine's Top 100 Restaurants in Dallas, four out of the top five are located in or near Uptown Dallas. Number two on their list of 100 was the Rosewood Mansion on Turtle Creek located in the Oak Lawn district in the heart of Uptown Dallas, serving their legendary French-Continental cuisine. The Rosewood Mansion has a rich history of its own; known as one of the most romantic hotels in Dallas, its meticulously restored interior is reminiscent of the majestic private residence it once was. Very much like the Rosewood Mansion, the rest of Uptown Dallas has invaluable historical significance and has likewise been carefully and beautifully restored in recent years.
Downtown Dallas has much fewer restaurants- only a few restaurants that are open at night, and the typical age range of the patrons is between 20-40, the minority being professional college grads. Some downtown restaurants that are still in business include Bob's Steak and Chop House on Lamar, Buca di Beppo, which serves Italian food, or Café 43, located in the George W. Bush Presidential Center, serving traditional American cuisine. Uptown Dallas vs Downtown Dallas – Hey yo, survey says: Uptown Dallas!

THE KATY TRAIL – Top THAT!
The Katy Trail is one of the main attractions of Uptown Dallas. It is a privately maintained public park, extending 3.5 miles from the American Airlines Center at the south end to Southern Methodist University (SMU) at its north end. It is a linear park featuring an eight-foot-wide asphalt surface path for running that runs alongside a twelve-foot-wide concrete trail for bicyclists and inline skaters. There are over a dozen plazas and public entrances linking the Trail to additional parks in the area, totaling over one hundred twenty-five acres of green space in the heart of Dallas. It is a prime location for exercising, dog walking, and socializing. Many running and cycling groups are known to meet at one of the numerous venues along the Katy Trail before and after rides and runs, particularly on the weekends. Downtown has the Klyde Warren Park on the north side over the Woodall Rodgers Freeway, but there is nothing downtown that even comes close to the Katy Trail. The Katy trail makes for a path all through Uptown Dallas to quickly walk to things, while in Downtown it's only on a little sliver. Let me explain more fully:
Downtown Dallas also has two access points to the Katy Trail. However, the two entrances are on the west most end of downtown and are not really convenient to walk to for most downtown locations. Thus, if you live in the Victory Park area, you can enjoy access. Otherwise, other parts of Downtown are not convenient to this wonderful avenue for meeting people and getting exercise.
As mentioned, the recent addition of Klyde Warren Park does help somewhat in giving more greenery. But the park is a compact size due to being created over the current highways. It's a move in the right direction, but Uptown Dallas still has many more exercise opportunities and more central access at all points to the Katy Trail. And I promise, you'll remember the name!

STRANGER DANGER
When it comes to safety, Uptown Dallas is much more desirable, especially at night. Uptown Dallas is an established community, built around the concept of social interaction and neighborhood culture. Since it was designed with pedestrians in mind, it is well-lit and regularly patrolled. Uptown Dallas, Inc. (UDI) has its own Communications Tree and Block Captain Programs, two neighborhood watch organizations that work to keep residents and guests safe and informed. The Communications Tree is a project of the UDI Public Safety Committee that keeps a database of email addresses of all Uptown Dallas residents, businesses and stakeholders. It is used to communicate alerts, advisories and bulletins in conjunction with the Dallas Police Department to ensure the safety of everyone in the Uptown Dallas area. This level of social awareness sets Uptown Dallas apart from downtown, as there is no such comparable safety program downtown. Downtown Dallas, You're FIRED!
SUM IT UP
Whether it is green space, nightlife, entertainment or safety, Uptown Dallas has the advantage over downtown, bar none. Experience Uptown for yourself and you will agree. There is no other place like it! Whoooooo, SMACKDOWN TAKEDOWN, count to three, you are OUT, Downtown! Uptown Dallas vs Downtown Dallas – Results: Uptown Dallas, for the win!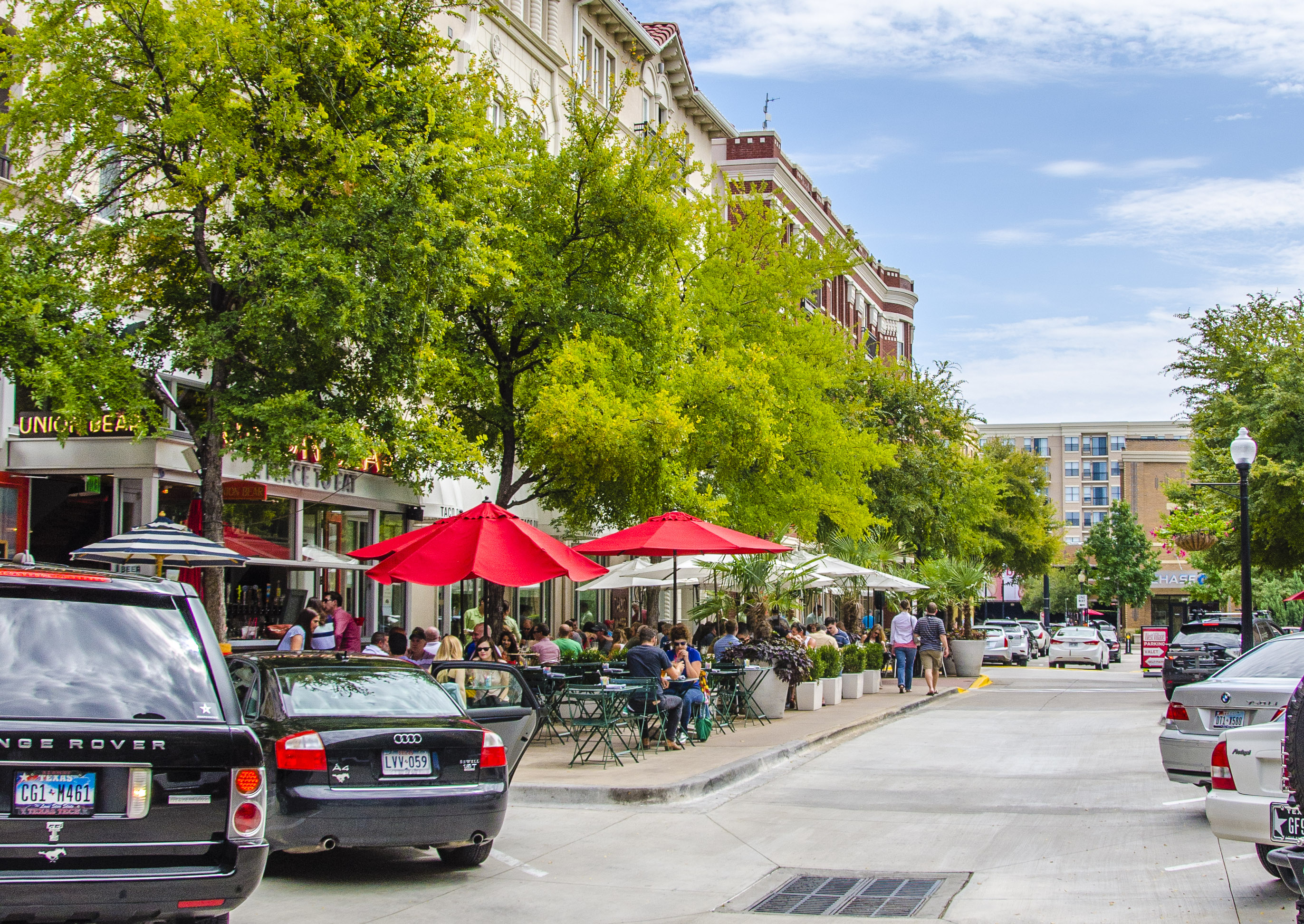 Ready to find YOUR place in Uptown Dallas? sign up for our 100% Free-to-You Service to find your perfect apartment in Uptown or nearby areas (Lower Greenville, Knox Henderson, Deep Ellum, etc).  Our free, quick service will save you hours of time and remove your stress.  Free Signup: HERE      When you apply for your apartment, you will also receive a free $100 Amazon card as well as a thank you for using our free service.