Best Dallas Areas to Live for PepsiCo New Hires
Many new PepsiCo Dallas employees, as well as interns, enjoy living south of the PepsiCo Dallas (Plano) HQ campus, in one of the areas of the City of Dallas.  There are several urban, exciting and entertaining areas to choose from.  We want to give you a few details about a few of the most popular areas, especially in terms of LEASING. 
The main draw of the area is the amount of single professionals in the area, as well as the presence of HOT SPOTS.  The Hot Spots of DFW are large concentrations of restaurants/night clubs and shopping all within walking distance. When you combine that with apartments that enable you to WALK to these night spots, you have the most popular living currently for singles in Dallas!

After you read the below insider info about this area, sign up for our 100% Free-to-You Service to find your perfect apartment in Uptown or nearby areas (Lower Greenville, Knox Henderson, Deep Ellum, etc).  Our free, quick service will save you hours of time and remove your stress.  Free Signup: HERE 
When you apply, you will also receive a free $100 Amazon card as well as a thank you for using our free service.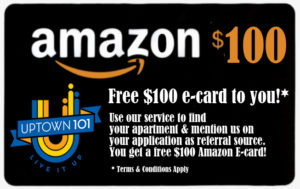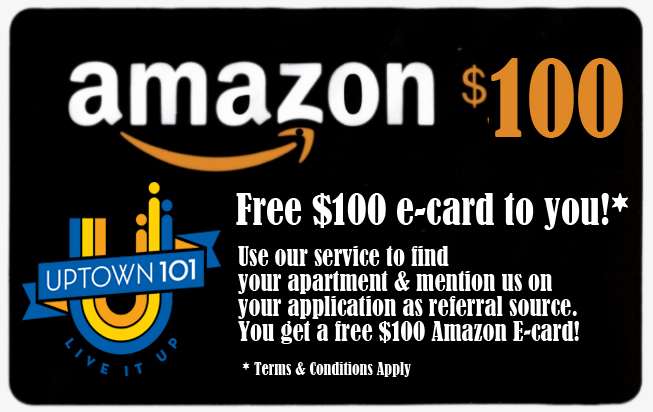 AREAS TO CONSIDER
The 2 most popular hotspots in Dallas for young professionals include UPTOWN Dallas and the SHOPS at LEGACY (Plano).  But, we also talk about some of the other areas that are considerations as well.  Also present are some of the best "mature areas" of town for a family to settle down as well. 
The areas of Park Cities (Highland Park and University Park) are extremely exclusive and have shops, services and the #1 public schools in the entire metroplex.
Note:  IF you are considering living in this area, housing on the WEST side of Central/75 is in general safer than on the East Side. Try to stay on the west side if possible. 
Distance from PepsiCo Plano HQ
The approximate distance of these popular areas from PepsiCo HQ are:
 Uptown – 25-30 minutes ** (depending on which area of Uptown)
Shops at Legacy – 5 minutes **
Addison – 5 minutes **
University Park/Highland Park – 25 to 35 minutes (if approaching from the North Dallas Tollway)
M Streets – 45 minutes (due to congestion on 75/Central
Lakewood/White Rock Lake – 45 minutes (due to congestion on 75/Central)
** These are STRONG choices for FritoLay/PepsiCo employees for LEASING with many safe and well regarded residences to choose from
ADVANTAGES OF EACH AREA
Uptown
Uptown is known naturally for being a singles haven.  With so many restaurants, shops and nightclubs in walking distance, and being close to downtown and North Dallas, it is extremely popular!  This pedestrian friendly neighborhood has scores of art galleries and restaurants as well as notable hotels like The Ritz-Carlton, Dallas.
A vintage trolley along McKinney Avenue is provided for use at no charge. At the north end of Uptown is West Village, a residential/retail development with high-rise units for sale or lease. A combination of historic homes and newly constructed high-rise properties gives Uptown a very stylish and unique aesthetic.
Advantages:
·

        

Most popular singles destination in Dallas
·

        

Best "walk to" lifestyle (walk to everything from your residence)
·

        

Free Uptown Trolley to get around Uptown
·

        

Dart Rail can be caught in Uptown and taken to FritoLay/PepsiCo HQ
·

        

Convenient to Airport
·

        

Katy Trail access for exercise
·

        

High Rises with valet
Shops at Legacy
The Shops at Legacy area is similar to Uptown Dallas. It is very conveniently located, just a few minutes from the PepsiCo locations (on Legacy and on Headquarters) in Plano Tx.
Advantages:
·

        

Located nearby PepsiCo HQ, the convenience factor in getting to work is strong
·

        

Professionals packed area
·

        

Safe and with areas to walk around
·

         More moderately priced than Uptown Dallas
University Park/Highland Park (Park Cities)
This is the "old money" part of Dallas. It is filled with amazing mansions, small cottages, and superb places to eat! You will most likely love the feel here if you have a pulse. Also, for a new potential neighborhood to buy in, the schools of Highland Park are widely believed the best in all of Dallas/Fort Worth by many people.
Take a visit to the Highland Park mall, which is the first mall ever built in the US. To take a true trip through there, it will take you an afternoon or even a day! Nearby University Park is usually linked to this area too, and has plenty of its own places to try. For a romantic, intimate place to go, try one of our favorite restaurants, RISE. It's a country French feel with superb, light soufflés.
Advantages:
·

        

Extremely luxurious
·

        

Family based residential area
·

        

Best schools in all of DFW
·

        

Caters to every shopping or service needs
·

        

Prestigious to be associated with
M Streets/Lower Greenville
Think LIVE MUSIC when you think of M Streets, where the main street is Lower Greenville. Famous for eclectic night clubs and restaurants, this area is always packed with a wide assortment of people, including college students, bikers, affluent professionals and more. Lower Greenville was voted as the most popular live music venue in Dallas by the Dallas Observer in 2007, 2008 and 2009. It's worth checking out for some of the clubs here, and there really are a lot to choose from. For a twist, check out the BLUE FISH for some great sushi. Might also try THE GRAPE, which is one of Dallas' most romantic spots!
Advantages:
·

        

Very convenient, just off 75/Central
·

        

Greenville leads straight to FritoLay/PepsiCo. Avoid traffic
·

        

Very trendy area to be in
·

        

Excellent single family housing in eclectic "cottages"
·

        

Best live music in Dallas
·

        

Pricey housing
Lakewood/White Rock Lake
With a very relaxed and artsy feel, Lakewood is a popular choice for weekend hangouts and a true variety of attractions to enjoy. Lakewood has a unique Lakewood Theater, which shows classic films and is the host to many other musical and comedy events. Lakewood has the very beautiful ARBORETUM, which contains acres and acres of the most well groomed flowers in Dallas. This is a must visit for spring for their "SPRING BLOOM" event.
Some of the trendier restaurants include Chef Sharon Hage's York Street. Lakewood also houses 2 well rated wine bistros, Times Ten Cellars and The Wine Therapist. Established restaurants to try include Matt's "Rancho" Martinez and Angelo's Spaghetti House.
Advantages:
·

        

Eclectic and funky
·

        

Wide variety of architecture for housing
·

        

Unique features such as the Arboretum
·

        

Excellent choice for single family housing, but not a lot of leasing choices
Downtown Dallas
Bounded by northern I-45, I-35E, I-30 and the Woodall Rodger Freeway, the area that encircles Downtown Dallas is also called the Central Business District. After a brief slump in the 1990s, Downtown Dallas has emerged regenerated and reinvigorated, ready to do business and welcome residents. Older historic buildings are being renovated as urban lofts, which are often occupied by the young professional or the empty-nesters.  Downtown is considered secure overall.
Advantages:
·

        

Direct and quick access from several parts of Downtown to FritoLay/PepsiCo HQ, using the DART RAIL
·

        

The best old style lofts available are in Downtown
·

        

Walk to Arts District
·

        

Right by Uptown (can catch Uptown Trolley)
·

        

Place with the most high rises
IF UPTOWN DALLAS, Where should I locate?
The most popular of these areas is UPTOWN DALLAS.  That's because it has the highest concentration of young professionals and has the most well known reputation for being the "in place" for professionals. There is no other close second.
Living in Uptown Dallas means that you will go "against traffic" if you commute to West Plano.  The bigger majority of the traffic will be going SOUTH in the morning, towards Downtown Dallas, and then NORTH in the evening, away from Downtown Dallas. But, for those that go the opposite way, you have a quicker commute that is drivable typically in 30 minutes or even under.
Uptown Dallas is actually bordered by three highways.  One of them is the North Dallas Tollway, which gives a "straight shot" almost directly to the PepsiCo HQ in West Plano.  If you want to cut your commute time, it is very important to locate in a certain area of Uptown Dallas, rather than in other areas. 
You can get to Uptown Dallas using the North Dallas Tollway, as mentioned, for commuting to West Plano.  As you exit, you can use the Oak Lawn exit to quickly get to the North part of Uptown Dallas, that contains the most amount of Pepsico Dallas Apartments that are popular for living in Uptown Dallas.   If you locate close to Blackburn in particular, or close to the Katy Trail (within walking distance), you will have a much quicker "straight shot" to get out of Uptown Dallas.
However, if you locate more inside Uptown Dallas, such as on McKinney Avenue in the mid section, or east of McKinney Avenue, you will have a longer commute.  In certain parts of Uptown in those sections, McKinney Avenue is one way and can be quite congested in the morning.   Locating in the State Thomas area can be great, but it will make a commute longer for those working with PepsiCo Dallas. 
If you locate more in the NORTH portion of Uptown Dallas, such as within walking distance to the West Village, the free Uptown Dallas Trolley and the Katy Trail (the amazing running/walking trail and social scene that is on the west border of Uptown Dallas.   If you are in that North portion, that would be the "sweet spot" for where to look for your PepsiCo Dallas Apartments .
Areas to AVOID Near Uptown Dallas
Areas that are EAST of 75, east of Uptown, are not generally advisable. That is because safety is more of an issue in these areas. Also, the commute time that is found in these areas is much longer to get to PepsiCo in West Plano.  They will require you to use the always packed 75/Central expressway, and then either the under construction 635 or the even longer 190/G Bush. Either way, you will have a MUCH longer commute. 
Next Steps
Ready to find your perfect Uptown Dallas apartment? Text UPTOWN to 31996 or fill this out: Uptown Search.  Our service is 100% Free and we will find your perfect place to start your Uptown Dallas adventure. Talk to you soon in Uptown.