Four Amazing Gyms in Uptown Dallas Apartments
Hello, and welcome to Uptown Dallas!  Today we are going to be talking about a very important topic: STAYING IN SHAPE in Uptown Dallas.  If you are thinking of moving to Uptown, one of the things you will enjoy is meeting great people to meet and going to TONS activities, shops and restaurants in Uptown Dallas.  But, make no mistake, you need to be in shape to keep up!   As it turns out, there are plenty of great ways to stay toned and fit in Uptown Dallas…not only with traditional fitness clubs, but even within Uptown Dallas apartments you might be considering. What I want to do today is discuss some of the general ways to help keep you fit.
I also want to identify Four Amazing Gyms in Uptown Dallas Apartments to consider if getting an AWESOME workout is important to you…and if you want to make great friends with your apartment neighbors!  And, that's not easy…there are lots of great apartment gyms in Uptown Dallas.
General Ways to Stay Fit
In Uptown Dallas, there are some obvious ways to keep fit and meet people.
Katy Trail
The Katy Trail Dallas is the easiest way to stay fit in Uptown Dallas. It's the almost 4 miles of hiking/biking/skating trail that starts in Uptown Dallas and goes way past Uptown Dallas.  It's uninterrupted fun, and has a wide path to enjoy.  In some parts of the trail, it even has 2 separate paths to walk on, creating even more space. Living walking distance close to the Trail means you get a terrific workout whenever you want.  That would mean living more towards the West and North parts of Uptown Dallas, where there are 2 great public access points to the trail.  Or, even better, live at one of the terrific apartments right on the Katy Trail.  One of my favorite apartments that is right on the Katy Trail is the recently built Monaco on the Trail.  It seems to really feature the Trail in the pool that looks over it, and in the direct, simple access to the Trail using its private gate.
Walkability in Uptown
Uptown is designed to be walkable…so leave your car behind, it's not really needed!  Uptown is only about 2 miles tall and even less wide, so it's not hard to get around to just about anywhere in Uptown.  Use the walkability aspect of Uptown not only to enjoy a convenient life, but also to stay in shape and get exercise while you go enjoy the sites of Uptown.  For example, if you live in the West Village Dallas area of Uptown in the north, try walking down McKinney Avenue going south if you want to enjoy some great night spots.  And, if you get tired, you don't have to worry, because the free Uptown Dallas Trolley will bail you out at any point of the trip, so hop aboard if needed.   Walk in Uptown, meet more people and stay in shape while you do it.
Fitness Clubs in Uptown
Uptown Dallas has plenty of fitness clubs to help you stay in shape.  From some of the biggest names in the nation (Gold's Gym) to smaller more local clubs that are terrific as well.   The largest and newest gym in the Uptown Dallas area is the LA Fitness on Haskell (next to 75).  It's got all of the cardio things you would expect (treadmills, etc.) but also has an indoor pool and even a basketball court. If you like more of a fitness club approach, this is the busiest club in Uptown, so go try it out.    For a smaller, more intimate experience, Uptown Dallas locals also love the reliable Trophy Fitness.  It's a good experience here, and you will feel perhaps a bit more attention. You can also get a great training experience here.
After you read more insider info about gyms below, sign up for our 100% Free-to-You Service to find your perfect apartment in Uptown or nearby areas (Lower Greenville, Knox Henderson, Deep Ellum, etc).  Our free, quick service will save you hours of time and remove your stress.  Free Signup: HERE 
When you apply, you will also receive a free $100 Amazon card as well as a thank you for using our free service.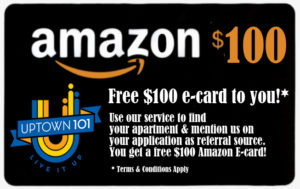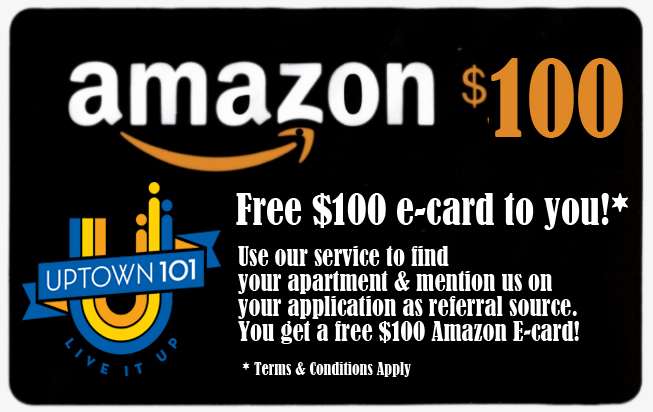 Top Gyms in Uptown Dallas Apartments
When the first apartments in Uptown Dallas were built in the 1990s, they contained little if any gym equipment.However, more recently built apartments in Uptown have gyms that can compete with smaller paid gyms with the level of equipment and space provided.  These newer gyms go way beyond the traditional few pieces of cardio equipment, but provide treadmills, weights, kettle bells and additional extras.  Better apartment gyms in Uptown Dallas also include free personal trainer led classes (usually a few times a week.  If you want to get additional time in with the trainer, they will schedule a session in that same apartment gym as well for your convenience. The gyms in apartments can sometimes provide truly all that you need for 90% of residents, with exceptions to heavy lifters or other specialized training.  And, access to these gyms are always included with your rent at no cost.  That's a nice benefit when local clubs run anywhere from $40 to $60 per month (not counting the ignition fee)!  Another great benefit is that you get to actually meet only residents of your apartment, so you get to make friends where you live, and more quickly. I've visited every single gym in all Uptown Dallas apartments. I definitely love many of these gyms.  Out of all of the Uptown Dallas apartment gyms, these are some of my favorites:
Mondrian The Mondrian is a higher end high rise that overlooks the West Village and is in a great location. Their gym does not disappoint. When you walk into the gym, it is obscured by a door with no window. You have no idea what is like until you use your key fob to open the black door.  It's almost like it is a secret hallway of sorts, giving no clues to what you are about to experience. When you do open it, what greets you is a HUGE gym with 25+ foot ceilings, and an avalanche of LIGHT!  The gym faces Blackburn street, and you can see the West Village directly outside, due to the huge, slightly tilted windows. You also get to see people walking outside on the sidewalk. It just starts out fun! The equipment inside is awesome. There are plenty of treadmills, bikes, weights and even a separate room for yoga or spin or working out with a personal trainer. There is a boxing setup as well, so get your guns ready. And, in a room partially separated, but with no doors, there is a huge area that can be used for personal training, classes and more.  This is perhaps the biggest gym in Uptown Dallas.
L Two Uptown The L Two Uptown is a nice Uptown Dallas Apartment, built in 2013. Many Uptown Dallas Apartments advertise a "resort luxury" feel.  I think this one actually delivers on the promise, including the fantastic gym.  Like the Mondrian, it is actually about 25 feet tall. One section that reached to the ceiling is filled with treadmills and weights. It also has glass the overlooks the street, making for a flood of light…you just feel great working out there. There is a partial 2nd floor of the gym as well. This contains a closed off SPIN ROOM, set up with bikes. This also contains a Yoga Room, separated as well. The equipment is all new inside since this was recently built, including things like kettle bells.  Due to the great design, this really does have the feel of a small fitness club, including even towels for residents.  I love the feel of this terrific gym.
2660 Cityplace The 2660 Cityplace apartments in Uptown Dallas were also completed in 2013. The building has a modern, all glass feel.  The gym inside is not huge, but well equipped, all new and uses the space very well.  The gym here contains mostly premium cardio equipment, with integrated media, It also includes individual strength training machines and free weights.  And, let's not forget the towels, those are there as well! What I like about the 2660 Cityplace gym is that this gym was well built and well stocked…despite being literally about 200 steps from the largest fitness club in Uptown Dallas (LA Fitness).  When 2660 Cityplace was being designed and built, I think it would have been tempting to build a tiny gym with just token equipment considering the club next door.  Kudos to 2660 for building a respectable gym anyway!  If you are interested mainly in cardio and light weights, this gym will have all that you need to take care of keeping your body in shape.
Monaco on the Trail The Monaco on the Trail was completed in late 2013. These apartments are built in a minimalistic way, providing more opportunity and space to create your environment.  They also take great advantage of being right on the Katy Trail, with a private, quick gate to the trail.  The Monaco also has social events that focus on keeping in shape (on the Trail, of course!). Of all of the gyms I mention here, this one is the smallest…but the most beautiful!  It has mounted tvs on subway backsplash walls. It is warmly lighted and feels very cozy. There are a handful of bikes and treadmills. There are also free weights (dumbbells, kettle bells, etc) and a few well selected machines (for pull downs, etc). The equipment quality is very high as well.   It reminds me less of a gym and more of a private luxury workout room that would be built for Lebron James when he takes vacations with his family…sans basketball courts!
Ready to  Begin Your Search?   Our service is 100% Free. To Begin: Text UPTOWN to 31996 or start here:  Uptown Dallas Search