The FOUR BEST PET FRIENDLY UPTOWN DALLAS APARTMENTS
Welcome to Uptown Dallas!  Thinking about a move to Uptown Dallas, and need to know which Uptown Dallas apartments will help you take best care of your pet?  Read on, and find out insider details about some of the most pet friendly Uptown Dallas Apartments.
After you read more insider info about the best pet friendly apartments, sign up for our 100% Free-to-You Service to find your perfect apartment in Uptown or nearby areas (Lower Greenville, Knox Henderson, Deep Ellum, etc).  Our free, quick service will save you hours of time and remove your stress.  Free Signup: HERE 
When you apply, you will also receive a free $100 Amazon card as well as a thank you for using our free service.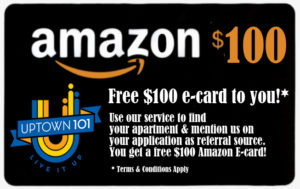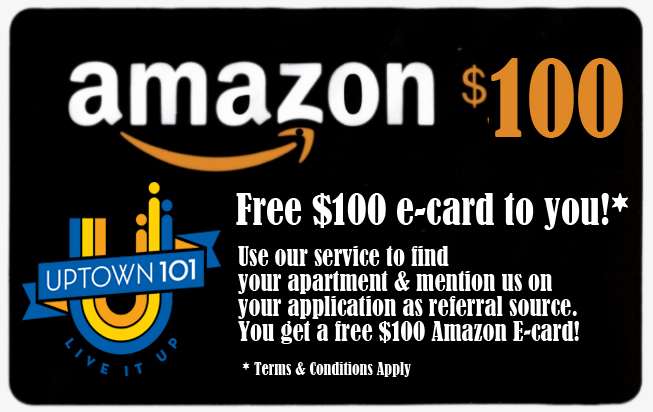 Reasons why Uptown Dallas is Pet Friendly in General
Overall, Uptown Dallas is one of the most pet friendly areas in the state of Texas, if not the entire nation.  Here are some of the reasons:
ALL Allow Pets! – all Uptown Dallas Apartments allow pets!  There is not a single apartment in Uptown Dallas that doesn't allow pets. Now, that being said, some apartments allow a wider amount of pets than others.   Some allow a smaller weight range, while others allow most large dogs, or even unlimited pound dogs!
Katy Trail – The unique almost 4 mile Katy Trail that runs on the West Side of Uptown Dallas is not only terrific for getting exercise and meeting people…it's also pet friendly.  You are welcome to run with your pet on the trail.
Restaurants are Pet Friendly – Restaurants like MUTTS allow for owners to eat lunch/dinner while their dog is nearby in the on grounds pet park. Other restaurants like the Katy Trail Ice House allow pets on the premises.  Saavy owners realize that our pets are important, so this trend is happening more and more. In fact, there are over 100 dog friendly activities for your pet in uptown, including night life!
Pet Parade – There is an annual event in October that you can enjoy with your pet.   It is a yearly event in which dogs are dressed in their finest (and funniest) Halloween costumes and parade a route around the West Village. There is a $20 entry fee for each dog (people are free); the proceeds go to the Friends of the Katy Trail.
These are only some of the key pet friendly features of the Uptown Dallas area, but they don't include everything.  Let's just say that if you own a pet in Uptown, you will feel very comfortable living here!
Apartment Specific Features & Policies that Help Your Pet
As I mentioned above, every apartment in Uptown Dallas will accept at least some type of pets.  However, allowing your pet inside is just part of making it easy and convenient for you to live there. Many of the newer apartments in the area have additional, convenient features to help make a wonderful experience for you and your pet. Let's explore some of these options available:
Pet RUN – A pet run is a small straight area of grass (real or artificial turf).  It can be located either inside the apartment complex, or outside of it (directly connected).   It can get crowded and you may have to watch your step a bit getting on this!  But, it makes it easy so you don't have to find some open grass outside, where there may not be much nearby.
Pet PARK – A pet park is a much wider area, more like a square or rectangle, with much more square feet.  It can include real or artificial grass.  But, in addition, a pet park typically includes toys or fixtures for your pet to play with…like maybe a jumping ring, or even a fake fire hydrant!   Having a pet park is truly the most convenient feature of all of these that we list, most definitely. But, even further, having a Pet Park or Pet Run can help with keeping things safer.  Uptown Dallas is a generally safe area, but when you don't have to exit the property at night to walk your pet, it is naturally going to be a safer environment. (this is also true about a Pet Run)
Pet Washing Station – A few Uptown Dallas apartments even include a pet washing station, where you can provide a wash/shampoo to your pet in a specially designated area within the apartment complex. It's a very convenient and so appreciated feature! The station tends to be located near the Pet Park or pet Run, but sometimes it is a separated area, adding even more space for your pet to enjoy (and more opportunities to meet neighbors).
Greenery inside/Directly Around the Apartment – Some areas of Uptown naturally have a lot of green area, while other areas are more densely populated. These densely populated areas make it tougher to walk your dog outside.  But, other Uptown Dallas apartments either are located right next to excellent grassy areas or parks, or even intentionally add extra areas right outside in addition to Pet Parks or Runs.  It's nice to have both options available for variety!
Pet Events – Some apartments even features pet friendly events. This is terrific when it happens, because this gives you a great way to take your pet along, and meet neighbors with their pets as well.  Talk about an easy way to break the ice…love it!
These are just some of the main features to notice as you are looking for your Uptown Dallas apartment in the future.
The Top Four Pet Friendly Uptown Dallas Apartments
Now, we get to the best part…which Uptown Dallas apartments are truly the most pet friendly Uptown Dallas Apartments?  Here are a few of my top picks.
Monterey by Windsor – The Monterey by Windsor is one of the most pet friendly apartments in all of Dallas.  They will work with larger pets, up to 100 pounds.  The area itself is located in the North part of Uptown, just north of the West Village.  It's a little quieter here, and right next to amazing greenery. They also have a wonderful Pet Park at the front of the property, directly connected. The park is fenced off and convenient. The location of the Pet Park is also excellent, near a low traffic side alley street.  And, even better, there is much greenery quickly close by in walking distance, including COLE PARK directly behind the Monterey.  And, you can also add in about 5 to 7 minutes walking and you are on the KATY TRAIL, for a good run for both you and your pet!  It is difficult to beat the Monterey for making your pet feel at home.
AMLI Quadrangle – The AMLI Quadrangle is also located in a bit quieter area of Uptown Dallas, but with quick walking distance to several key attractions of Uptown.  The area has several green areas in quick walking distance to walk your dog and enjoy the outdoors.  In addition, they have an amazing Pet Park. It is large and enclosed, with plenty of room to let your dog relax and take care of business! Their Pet Park is also totally enclosed by the apartment complex, making for a safer experience at night.  And, on top of that, they have a wonderful pet washing station inside the parking garage.  Your pet will find this apartment convenient!
Mondrian – Located right next to the Monterey is the Mondrian high rise. Rent is higher at the Mondrian, but they have some excellent features for your pet.  They have all of the same outer features as the Monterey.  They also have an intriguing Pet Park located inside the building, on the top parking floor.  The Pet Park completely enclosed, so it provides a safe experience, although it is a bit difficult to get to it from your apartment in terms of distance.
L2 Uptown  – The L2 has some great pet features that will make it fun and convenient for you.  First, they have a wonderful Pet Park, directly connected to it. It's enclosed/gated, so your pet can roam.  Second, the location itself has a lot of greenery near it. Like the Monterey, this location is set back just a few minutes from the action of McKinney, but you can still quickly walk to it. This makes it in my mind just a bit safer and easier to walk your pet.  Third, a huge feature right next to the L2 Uptown is the recently built MUTT"S. This is actually a drop off park for animal care during the day by paid attendants, and you can come see your dog at lunchtime easily if you like.  It makes life super convenient!
There are some other terrific Uptown Dallas apartments that are friendly to pets, but for time sake, we can name only a few. But, I hope you can see that Uptown Dallas apartments will make it convenient to enjoy life in Dallas, for you and your pet!
 
Ready for the Amazing Uptown Life? 🙂
Let's get started! Sign up for our 100% Free Service by Texting UPTOWN to 31996 or Fill this out: Uptown Search.
Talk to you soon in Uptown!