AMLI QUADRANGLE Uptown Dallas Apartments – INSIDER REVIEW
Howdy yall!  The Amli Quadrangle is in a GREAT location and has a cozy feel.  Walk to so many things too. Read more below about this super apartment in Uptown Dallas!
After you read more insider info about this apartment, sign up for our 100% Free-to-You Service to find your perfect apartment in Uptown or nearby areas (Lower Greenville, Knox Henderson, Deep Ellum, etc).  Our free, quick service will save you hours of time and remove your stress.  Free Signup: HERE 
When you apply, you will also receive a free $100 Amazon card as well as a thank you for using our free service.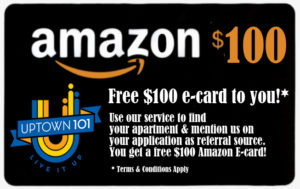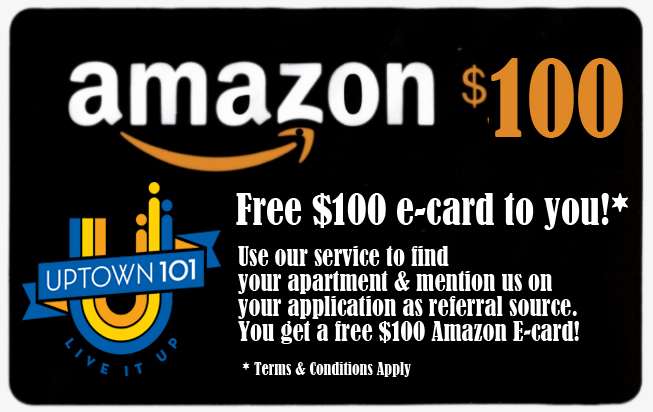 LOCATION
The AMLI Quadrangle Apartments is a recently built residence in a somewhat tucked away section of Uptown Dallas. It is not on the super busy McKinney Avenue, but is literally about a block west of it. This gives easy access to the more "tourist" friendly night spots on McKinney Avenue.
The area around the AMLI Quadrangle apartments definitely has a surprisingly charming neighborhood feel, especially considering how Downtown Dallas is just a few minutes away. The AMLI Quadrangle apartments is directly bordered primarily by the shopping and restaurant (single story) shopping complex called the QUADRANGLE. There are also short mini blocks all around with a patchwork collection of older attractive houses and small restaurants or offices and night clubs.
The QUADRANGLE is a somewhat diverse collection of non-chain restaurants and night spots, along with some office space. It features some of the newer and popular night spots and restaurants of Uptown Dallas. (All of these are within a few minutes walking distance of the AMLI Quadrangle Apartments.) Some of the more popular within quick walking distance are:
BBC (British Beverage Company)
Kung Fu (catch the vintage video games here)
Ginger Man
The AMLI Quadrangle also has retail restaurants and shops in its own building. This would include the delicious and popular quick food fix of ROCCO'S Pizza and Pasta. With all of this, and the multitude of places to quickly walk to, there is no shortage of things to do within walking distance.
A key point of Uptown Dallas is to be able to have a terrific social life, and to be WITHIN QUICK WALKING DISTANCE of that social life (think 7 minutes or less)! Uptown is about convenience! There are 4 key features in Uptown Dallas to help have that great social life. So we want to know how well the AMLI Quadrangles does in giving you access to these 4 Key Features of Uptown Dallas. Here goes:
Katy Trail – Being close to the Katy Trail (the famous semi private running trail in Uptown Dallas) is going to mean being in better shape, and getting an opportunity to meet people. Great news here! With the AMLI Quadrangle Apartments, you will are about 5 minutes away from the Routh Street connection of the Katy Trail.
Uptown Trolley – So much of Uptown is quickly accessible by the free Uptown Trolley. So, even if you can't walk to every feature of Uptown Dallas, the good news is: if you can walk to a Trolley Stop quickly, you can get to the main features of Uptown Dallas. The good news with the AMLI: You definitely have quick walking access (within about 2 minutes) to the nearest Trolley stop. That stop is pretty much RIGHT IN FRONT OF THE BUILDING. Yes!
Night Life in Mid-Section – A well-known cluster of Uptown Dallas clubs are located on a quick walkable part of McKinney Avenue that starts with Boll Street and ends around Holland. From the AMLI Quadrangle Apartments, you can WALK TO this cluster in about 5 minutes. Nice!
West Village – The ever popular West Village has the largest concentration of shops and restaurants of Uptown in one place. This is located in the North part of Uptown. The AMLI Quadrangle is NOT walking distance to the West Village. However, the West Village can be conveniently accessed by the Uptown Trolley.
Groceries: Within about 7 minutes walking from the AMLI Quadrangle is the oldest grocery store in Uptown Dallas, the Albertson's on McKinney Avenue. Walgreen's is right next to it as well.
Overall, the location is better than average for Uptown Dallas. Now, let's explore the Social Scene of the AMLI Quadrangle apartments.
SOCIAL SCENE
The social scene of the AMLI Quadrangle is on the medium high end of all Uptown Dallas residences. Here is why:
BUILT IN ATTRACTIONS
Lots to do nearby: We have already mentioned the many night spots and restaurants all within quick walking distance.
The Quadrangle Placement: The AMLI Quadrangle is directly connected to the Quadrangle, which includes even more restaurants and night spots.
The Retail of the Building: Even the building itself includes retail restaurants and shops.
When you walk into the AMLI Quadrangle apartments, you will notice right away the brightly colored walls of the leasing office and hear the "dance pop" music playing in the background. You will see plenty of people getting home from work, using the elevators in this section to get to their apartments…this place is busy!
The first floor contains many amenities and they are all within either direct line of vision or quick walking distance of the leasing office. That would include the busy gym that has a partial glass wall, allowing you to see many professionals getting in shape. That would also include the lounge area (think free coffee) and the business center with computers and business tables to have meetings. Go through the inner portion and you will have quick access to the large pool area as well.
The setup of even simple things like the common area mailbox and the main garage entrance/exit also give you easy ways to meet people.
The AMLI Quadrangle also organizes at least one event each month to help you meet other residents. This is similar to what other apartments in Uptown Dallas do. However, the AMLI Quadrangle has the advantage of having several great choices nearby in walking distance, such as the very popular KUNG FU. I like the other little nice things that they do, like the Breakfast on the Run, where they have breakfast tacos waiting for residents in the morning as they are leaving.
To sum it up: The Social Scene here is strong, upbeat and full of young professionals. Plenty of things in the building and nearby to walk to. And the staff helps with planned activities.
(Please see our Compare Features section TAB for more details.)
APARTMENT
The AMLI Quadrangle offers basically one and two bedroom apartments from 633 square feet to about 1450 square feet. There are no studios or three bedrooms. It is designed for singles and couples primarily.
The apartments have some average interiors only. Kitchens feature newer appliances with bamboo floors. Living rooms have good amounts of space.
Here are some of attractive features of the apartments at the AMLI QUADRANGLE:
Roommate Friendly – The 2 bedrooms here seem to be well suited for roommates (with the living room separating the 2 bedrooms and each bedroom having their own bathroom)
Recently built Appliances –All appliances are included, such as stove, microwave, etc.
Washer/Dryer included: A full size washer/dryer is included at no cost.
Patio/Balconies included: Most of the units have balconies to enjoy the view.
Granite Countertops in kitchen: The kitchen does include granite countertops.
There is nothing missing with the interiors overall. But, there is not much that stands out either. There are few design elements that excite or make you smile. In fact, the AMLI Quadrangle has some design omissions. Let me tell you about the main ones:
Primarily Carpet – Most apartments have carpet throughout, except for the bamboo in the kitchen. Select apartments have an upgrade to a hardwood floor at a cost.
No walk in showers – The apartments have standard type of shower/bath units (where you must buy shower rings and a shower curtain, etc.). None of the units have the newer walk in showers that are more convenient.
Small Fridge – the fridge is on the smaller side compared to other Uptown Dallas apartments.
Quality of Features – the quality of the features is definitely average, not low, but not outstanding.
The apartments themselves have good space and have the basic amenities you need in an apartment. They just feel a bit cookie cutter in their designs.
(Please see our Compare Features section TAB for more details.)
AMENITIES
The amenities in the AMLI Quadrangle are on the above average end in comparison to other Uptown Dallas choices. Here are some of the highlights.
Parking Garage INCLUDED – Yes, parking in the garage is included, no charge. And the garage is HUGE.
Parking for your GUESTS included – YES, in a big way! There is a huge ground garage floor connecting to the AMLI QUADRANGLE. This gives a large amount of spaces for overnight guests, and it's free.
Controlled Access – Hallways and elevators require an electronic key fob access to enter or exit.
Pool – the pool area of the AMLI QUADRANGLE APARTMENTS is a huge plus. The size of it and the amount of chairs included mean big pool parties here!
Pet Park – There is a great leash free pet park right on site. There is also a pet washing station in the garage. This is a very pet friendly choice and you will meet plenty of people with pets!
There are a few weaknesses with the amenities at the AMLI Quadrangle. Here is what I mean:
GYM has little amount of equipment – For the amount of residents here, the equipment included in the gym is minimal. The gym is a decent size and is clean. However, it should be much bigger to seriously accomadate the amount of residents. Better to join the TROPHY FITNESS center nearby, in walking distance.
Open Air Hallways – Although the hallways secured by a key fob, the hallways are also open air. This makes for a hot summer or a cold winter as you are entering your apartment. In addition, this makes your utility bill larger (air conditioned or heated hallways keep the energy in when you open the door).
No Party Room – Most apartments have a party room of some sort. It is typically free access, and can be rented for special events for a small fee. The AMLI QUADRANGLE doesn't have this nice to have feature, but this is not not a huge weakness.
Overall: Amenities are above average.
SUMMARY
The AMLI Quadrangle gives a very busy social backdrop for young professionals to enjoy Uptown Dallas. Access to many key Uptown Dallas apartment features is quick, including many within walking distance. The residences are somewhat average on the inside, but key features are included, such as the washer/dryer set. Amenities are above average.
Ready to find your perfect Uptown Dallas apartment? Text UPTOWN to 31996 or fill this out: Uptown Search.  Our service is 100% Free and we will find your perfect place to start your Uptown Dallas adventure. Talk to you soon in Uptown.