The Four Key Features of Uptown Dallas
What Makes Uptown Dallas UPTOWN? The 4 key features of Uptown Dallas are described here.
What makes Uptown, well, Uptown? There is a certain vibe that is unique to Uptown; it is apparent in its residents, its businesses and its atmosphere. The primary things you need to know overall about Uptown:
SOCIAL- Uptown that is intentionally DESIGNED to help you meet other people
WALKABLE- Uptown was designed to be walkable to just about everything, to help make life convenient and fun.
YOUNG PROFESSIONALS- Further, Uptown is filled overwhelmingly with single, rising professionals
The four items below are what I call the 4 Key Attractions of Uptown. These attractions help people meet other people and are all walkable from most parts of Uptown (or accessed by the free Trolley). Here is a little about each attraction, and what you need to know.
After you read the below insider info, sign up for our 100% Free-to-You Service to find your perfect apartment in Uptown or nearby areas (Lower Greenville, Knox Henderson, Deep Ellum, etc).  Our free, quick service will save you hours of time and remove your stress.  Free Signup: HERE      When you apply, you will also receive a free $100 Amazon card as well as a thank you for using our free service.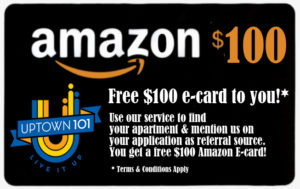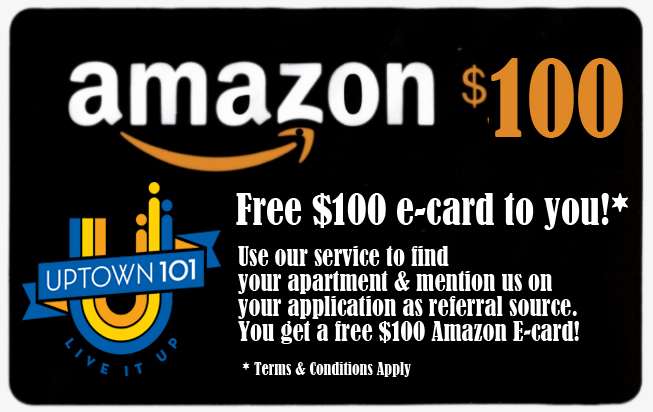 The West Village
The West Village is located at the north end of Uptown, flanked by Lemmon Avenue East, Cole Avenue, Blackburn Street and Noble Avenue, with McKinney Avenue running straight up the middle. The McKinney Avenue Trolley goes around and thru the West Village, although it is a fabulous place for walking, especially in the evenings. Nearly all the restaurants have open patio seating available, with music in the air and the sounds of people eating, drinking and relaxing. Go pick one of the many restaurants and sit outside in the cool night air; enjoy a drink and do some people watching. You will see friends meeting up, couples holding hands, the Trolley going by… the atmosphere here just cannot be beat.
Shopping at the West Village is also a treat. Everything is within walking distance, including Brooks Brothers, Daniel Taylor Clothier, Nicole Kwon and many others. There are also several professional salons located in the West Village, such as The Avalon Salon and Spa, the Nail Bar, and Floyd's Barber Shop. There are even places to get your fitness on, including Bikram Yoga Dallas, InCinR8 Fitness Studio, The Joint, a Chiropractic practice and Massage Envy to reward yourself after all that activity!
The Katy Trail
The Katy Trail is a privately maintained public park, extending 3.5 miles from the American Airlines Center at the south end to Southern Methodist University (SMU) at its north end. It is a linear park featuring an eight-foot-wide asphalt surface path for running that runs alongside a twelve-foot-wide concrete trail for bicyclists and inline skaters. There are over a dozen plazas and public entrances linking the Trail to additional parks in the area, totaling over one hundred twenty-five acres of green space in the heart of Dallas. It is a prime location for exercising, dog walking, and socializing. Many running and cycling groups are known to meet at one of the numerous venues along the Katy Trail before and after rides and runs, particularly on the weekends.
A great place to see the Katy Trail up close is by using the West Village entrance on Blackburn, just west of Cole. Climb up the stairs and check it out. If you use the West Village entrance on Blackburn, from there you can walk back to the West Village for a meal or some shopping.
Another important point about the Katy Trail: You can use it to quickly get around to many points of Uptown, even if you are not working out. It's like a short cut that you can bypass traffic with and quickly get to other fun things in Uptown. It truly is a great connector to many parts of Uptown!
McKinney Avenue Nightlife
McKinney Avenue literally lights up the heart of Uptown. From Fitzhugh on the north end Pearl Street on the south end, there is non-stop action at night. McKinney Avenue gets really revved up between Allen and Routh Streets, with hot spots like The Black Friar Pub, Big Al's McKinney Avenue Tavern aka The MAT and The Kung Fu Saloon. Whether you hit them all or pick a favorite, you are sure to have a blast on McKinney. There are countless places to have dinner, catch a show, sit back for a few drinks or even play video games or karaoke the night away. The McKinney Avenue Trolley runs until 11:30 pm on Friday and 12:30 a.m. on Saturday nights so save your cab fare and take the M Line! There is so much going on within walking distance of McKinney Avenue; it would be a challenge to actually find yourself bored.
The Trolley
How would you like to be able to get around to any part of the area you live in without needing your car… and for FREE? That's what the Uptown Trolley does for you. The McKinney Avenue Trolley, aka the MATA or M Line is a part of the Dallas Area Rapid Transit (DART) system. The Trolley runs up McKinney Avenue, around the West Village and back. It also connects Uptown with Downtown Dallas. At the Cityplace/Uptown DART station you can get off the Trolley and connect with a number of DART Rail trains and DART city busses, giving you access to virtually anywhere in the Dallas metropolitan area.
The Trolley is especially useful Uptown because its main route is McKinney Avenue, at the very heart the district. You can ride the Trolley from the West Village all the way south to Pearl St. and see countless places to stop along the way for working, eating, living and shopping. You can ride the Trolley also from other points of Uptown, such as the Crescent/Ritz area, the State Thomas area and any other area of Uptown. The Trolley truly connects Uptown together!
The Trolley system has four heated and air-conditioned, fully restored vintage trolley cars that run from 7 a.m. to 10 p.m. on Monday thru Thursdays, 7 a.m. to 11:30 p.m. on Fridays, from 10 a.m. to 12:30 a.m. on Saturdays, and 10 a.m. to 10 p.m. on Sundays and Holidays. The Trolley runs virtually 365 days a year and is completely free of charge, excluding charters. See MATA online for a full schedule.
Summary
These four hot spots summarize Uptown nicely, but there is still so much more! Whether you work or live Uptown or both, you will find these four elements are highly unique and are truly what sets Uptown apart from any other area geared towards young professionals. You simply won't find this combination of features together in one cohesive community anywhere else. From the West Village, to the McKinney Avenue district, Katy Trail and the famous M Line Trolley, no other city in the U.S. can make the same claims as Uptown. Uptown Dallas has a reputation for being the number one choice for young, urban-minded professionals for a reason; see for yourself how well we live up to it!
YOUR Amazing Uptown Life Awaits!
Ready to find your perfect Uptown Dallas apartment? Text UPTOWN to 31996 or fill this out: Uptown Search.  Our service is 100% Free and we will find your perfect place to start your Uptown Dallas adventure. Talk to you soon in Uptown.