Dallas Uptown Apartments – Great Apartment Values for Each Budget Range
Hello from Uptown Dallas! Thinking about a move to Uptown Dallas? You aren't alone…everyone seems to be moving here!  Uptown Dallas is the most popular single area in Dallas Fort Worth to enjoy a unique and convenient lifestyle with other professionals. You are definitely going to have a lot of company as you come here.
The primary way to live in Uptown Dallas is to enjoy one of the slightly under 50 apartments in this area. That gets you the best values and the most variety by far.  Being walking distance (within 7 minutes or under) is a huge key to the convenient lifestyle of Dallas.  To understand a bit more about Uptown Dallas, please see our article Uptown Dallas in Five Minutes.
Now let me ask you a question:  Why are you moving to Uptown Dallas? If you are like most others, your answer is: I want to meet a lot of professionals like me.  And, I want to have a great, fun and convenient lifestyle!  So, choosing from one of the Dallas Uptown Apartments should involve which of the Dallas Uptown Apartments make meeting people and having convenience the easiest …right?
The rest of this article will tell you some general things to consider on which of the Dallas Uptown Apartments to choose. Then, I will give you some of the best values by your budget range for Dallas Uptown Apartments, using those considerations.
After you read more insider info below, sign up for our 100% Free-to-You Service to find your perfect apartment in Uptown or nearby areas (Lower Greenville, Knox Henderson, Deep Ellum, etc).  Our free, quick service will save you hours of time and remove your stress.  Free Signup: HERE 
When you apply, you will also receive a free $100 Amazon card as well as a thank you for using our free service.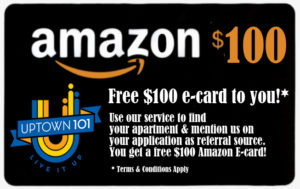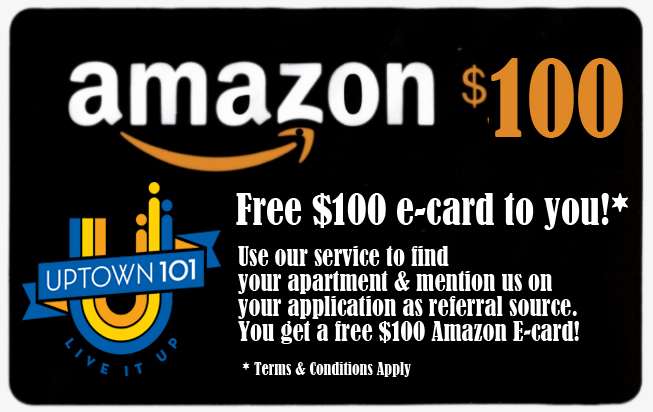 CONSIDERATION 1: LOCATION IS HUGE
Being in the right LOCATION will get you the way to meet the most people and have a convenient lifestyle.  Location is HUGE for Uptown Dallas! You should keep LOCATION that in mind as the most important factor for choosing your Dallas Uptown Apartments. And, to get the best location, there are basically 4 key features to try to be walking distance close to.  The closer you can be to the MOST of these features, the better in Uptown Dallas your location is!
The key features of Uptown Dallas to examine when you are choosing from Dallas Uptown Apartments are:
The West Village (mega outdoor shop/restaurant/night life area)
The Katy Trail (running/biking trail on the west border of Uptown Dallas)
The Uptown Trolley (free public transportation along McKinney Avenue throughout much of Uptown Dallas)
McKinney Avenue night life (some of it is found in south Uptown, but it's actually all around Uptown Dallas)
Grocery Stores (there are 3 in Uptown Dallas, but Kroger is my favorite because of the large organic section)
You can find out more detailed information here: the 4 Key Features of Uptown.
CONSIDERATION 2: NEIGHBORHOODS of UPTOWN DALLAS
The next part is this:  What neighborhood of Uptown Dallas should you live in?   It's important to know that Uptown Dallas actually has five different neighborhoods inside of it, and they will give you a very unique experience in each one of them.
Some neighborhoods are better for those who are road warriors.
Other neighborhoods are better for a quieter experience.
And, finally, some neighborhoods are just plain good for a non-stop social life!
Want to know more? Read on and see our 6 neighborhoods of Uptown Dallas descriptions and see which neighborhood matches your lifestyle.  To sum it up quickly, here are the neighborhoods and a quick description:
The Pearl – closest to downtown, more of a corporate feel, quiet, higher priced, not as close to walk to key features
State Thomas – good neighborhood feel, gets very crowded, walk to night life, can't walk to Katy Trail or West Village key features
Routh South – West of McKinney Avenue, insider restaurants and night spots, near Katy Trail and Uptown Trolley
West Village – Most to walk to in this area, walk to Katy Trail, walk to Uptown Trolley, most shops and restaurants, newer night spots
Turtle Creek – right next to Uptown Dallas but people consider it Uptown, quiet, good access to North Dallas Tollway, less expensive alternative, green area with parks
Victory Park – Many people consider Victory Park because it's directly connected to Uptown. This is a perfect area for finding that beautiful view on the 20th floor!
BEST VALUES FOR EACH BUDGET RANGE
Here are some of the best values for each budget range you might think about spending in Uptown Dallas for Dallas Uptown Apartments.  This is not a comprehensive list, but includes some choices to think about.  After you read this, reach out to us for more specific suggestions that will best fit your lifestyle and move in dates for Dallas Uptown Apartments. 
Note: The pricing below is for ONE bedrooms. Pricing and availability can change at any time, due to market conditions.   And, these suggestions are listed alpha order, not priority order! J

$1100 to $1299 starting prices – Dallas Uptown Apartments

2660 Cityplace – walk to Free Uptown Trolley, just recently built, next to best grocery store in Uptown area, extremely popular choice
Gallery at Turtle Creek – One of my favorite new choices in the Uptown area.  Astute and soaring design with a prolific use of glass.  Small studio lofts are available.  They have an amazing gym as well.
Monterey Uptown – incredible "walk to" location, includes hardwoods, recently built, includes w/dryer (STUDIO only)
Riviera West Village – walk to West Village and Katy Trail, good value for the money, laid back and quieter
$1300 to $1499 starting prices – Dallas Uptown Apartments

Monaco on the Trail – Just built, great location backing up to the Katy Trail, like a private boutique hotel.  I love the social gathering emphasis on exercise events!
$1500 to $1799 starting prices – Dallas Uptown Apartments
Alara – Delightful mid-rise with a light, bright well designed interior.  Perfect walking access to the West Village.  Interiors include all of the fun things like hardwoods, etc.  Amenities are just right, enjoyable but not overpowering.
L Two Uptown – a premium true "resort" choice with exceptional amenities. This is a haven away from home. I love the features like the pavement designed to collect rainwater. One of the best gyms in Uptown, without the fees!
$1800 to $2200 – Dallas Uptown Apartments
Ashton – superb high rise for busy executives.  Best trained 24 hour concierge staff. Meet fascinating people and be close to downtown as well.
Park 17 – Fascinating high rise on the border of Uptown and Downtown, so convenient for downtown or Tollway professionals. Well-appointed amenities. Modern but warm loft style plans. Best terrace deck in Uptown Dallas.
SUMMARY
Uptown Dallas is a terrific area to start your new life here as a professional. Knowing the different areas of Uptown Dallas in more detail will help you find a better fit for your lifestyle and select from the best of the Dallas Uptown Apartments.  You have areas that are more social and active, and other areas that are more laid back. All of Uptown Dallas is social, but some areas are more so than others.    Make sure to read the additional articles to see more information about each area and reach out to us for more help on the best area and housing for you.
Ready to find your perfect Uptown Dallas apartment? Text UPTOWN to 31996 or fill this out: Uptown Search.  Our service is 100% Free and we will find your perfect place to start your Uptown Dallas adventure. Talk to you soon in Uptown.