West Village Dallas Apartments – The Perfect Combination of Location and Moderate Pricing in Uptown Dallas
Welcome to Uptown Dallas! Uptown Dallas is the single most popular location for young professionals in all of Dallas, and possibly even the entire Southern United States.  If you are thinking of moving here soon, this article will give you a great overview of the area.
After you read the below insider info about this area, sign up for our 100% Free-to-You Service to find your perfect apartment in Uptown or nearby areas (Lower Greenville, Knox Henderson, Deep Ellum, etc).  Our free, quick service will save you hours of time and remove your stress.  Free Signup: HERE 
When you apply, you will also receive a free $100 Amazon card as well as a thank you for using our free service.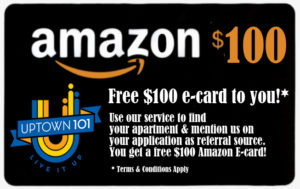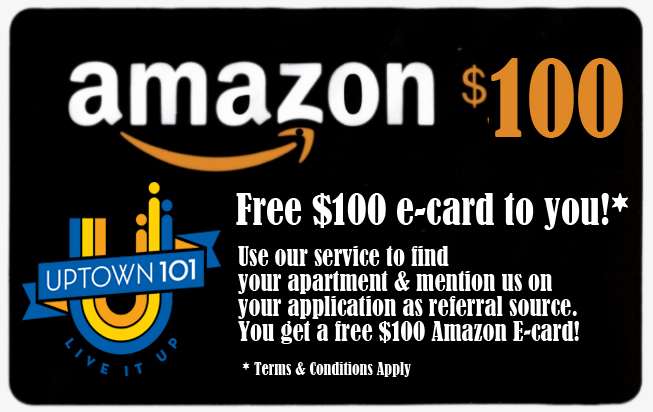 Where is the West Village Dallas Area of Uptown Dallas?
If you are considering a move to Uptown Dallas, you need to know that Uptown Dallas is not just one big area and all parts of the area are alike. In fact, there are actually several mini neighborhoods that make up the Uptown Dallas area, each with their own different feels and strengths.   The neighborhoods of Uptown Dallas include:
West Village Dallas (the most north part of Uptown Dallas)
State Thomas Dallas  (east of McKinney Avenue)
Routh South Dallas (ON McKinney Avenue)
The Pearl Dallas (south most part of Uptown Dallas)
Turtle Creek Dallas (west of Uptown Dallas)
Victory Park Dallas (west of the Pearl, a newer area connected to Uptown and Downtown)
The West Village Dallas is the section of Uptown Dallas that is the most north part of Uptown Dallas. This section gets its name primarily from life in this section being centered around the large West Village Dallas shopping mega complex. This outdoor shopping complex is filled with a few chains, but primarily boutique shops, restaurants and a few night spots as well.
The West Village Dallas shopping center has also been recently expanded. On one side of McKinney Avenue is the part that has been around for years.  It is at McKinney and Blackburn/Cole Avenue.  This is what people think of as the West Village. The new section is just east of this, directly bordering. It is at McKinney and 75/Blackburn.  It features a huge new section and also is directly connected to the recently completed Uptown Trolley/Dart Rail stop, making it extremely convenient.
In addition to the main West Village Dallas shopping center, there are several blocks of stores that are directly connected or within a few minutes walk, such as along Lemmon Avenue.   These are established areas of shops and restaurants and night spots.
Uptown Dallas is famous primarily for having a walk to lifestyle…where you can walk to everything. The key to why you would then want to live in the West Village Dallas area is this:  The West Village Dallas area will give you the best truly walkable lifestyle to the most events and key features of Uptown.  It is literally the "sweet spot" of Uptown Dallas…let's explore that a bit more.

West Village Dallas – The Sweet Spot of Uptown Dallas
So, if you live in the West Village Dallas area of Uptown Dallas, you have the most restaurants and shops and night life in QUICK walking distance (within 7 minutes or less).  Although other areas of Uptown Dallas are attractive (and we love them too!), there really isn't another area of Uptown Dallas that has the walkability in that you can leave your car at home and enjoy a great lifestyle once you get home!
Here are some other key features of the West Village Dallas that mean an easy, convenient lifestyle:

Groceries in Walking Distance
The West Village section of Uptown Dallas has TWO grocery stores.  One is located on Lemmon Avenue and McKinney.  The other is the KROGER that is located just across 75 using Blackburn, the Kroger Fresh Fare.   The Kroger in particular has a huge section for organic food and produce.  By being located in this section for your West Village Dallas Apartments, you can easily walk to these.
Uptown Dallas Trolley
If you choose a West Village Dallas Apartment, you are also in quick walking distance to the Uptown Trolley. Why is that important? Well, the Uptown Dallas trolley is first of all FREE. And, second of all, it runs even in the early mornings up to later at night, especially on the weekends. So, the Uptown Trolley will do 2 things for you. First, it will give you a free way to get to downtown Dallas or Uptown Dallas if you work there. Second, it gives you essentially a "free taxi" to get to the night life section that is in southern Uptown Dallas at any time.  So, when you are near the Uptown Dallas Trolley and in the West Village section of Uptown Dallas, you truly have the best walking lifestyle or quick rides…car is optional!

Katy Trail in Uptown Dallas
Being in the West Village means you have a quick access to the Katy Trail entrance on Blackburn Avenue. Quick access to the Katy Trail is becoming more and more popular. It's not only a great way to get exercise, but it also gives you a great way to meet people as well!   But, if you are too far away from the Katy Trail, it gives you a bit of a disadvantage of enjoying Uptown, because Uptown Dallas residents love keeping in shape!   So, having a West Village Dallas Apartment means walking very quickly to the Katy Trail, within 7 minutes or under, typically.

Atmosphere
The social vibe of the West Village is high energy and full-on fun! The people here are a varied mix of Uptown Dallas residents along with tourists and others, making the West Village Dallas a very popular destination. It is probably the day to day most popular part of Uptown Dallas to be in, as it is alive with people walking, shopping and socializing. The layout of the West Village Dallas is compact and very walker-friendly, much like the shopping and dining areas usually found surrounding college campuses. It is also very easy to catch the M Line Trolley or hop on the Katy Trail and travel quickly and easily to other parts of Uptown Dallas from here. The West Village Dallas is popular with tourists because of the restaurants and great shopping; it is also filled with locals that live here, as well as eat, shop, work out and play here.

West Village Dallas Apartments – moderate price and variety
Now that we have covered the advantages for living in the West Village section of Dallas, let's cover some specific advantages of the West Village Dallas Apartments. Here are a few thoughts to help:

The largest Variety of apartments is in the West Village Dallas area
The highest amount of variety of apartments in Uptown is found in the West Village Dallas area. That includes mid rises, high rises, and even traditional apartments.  That also includes lofts as well.  You can find just about any style you like to live in in the West Village Dallas area, which is just not true for other areas of Uptown Dallas. West Village Dallas apartments really have a huge advantage in this area over other parts of Uptown Dallas.

The best value of apartments at a moderate price
What I have observed about the West Village Dallas apartments is also very good news for you if you are considering this area…and that is this:  This area seems to have some of the better values for apartments.  You can get an apartment of much higher quality here for a more moderate price, rather than pay some of the higher prices found in other areas of Uptown.   That doesn't mean a cheap or even the cheapest (in price) apartments. But, that does mean for the money, you will get the best value of features, location and amenities, hands down!   One of the best examples of that is an apartment located within 3 minutes walking of the west village Dallas.  It has hardwood floors, granite countertops, secured and air conditioned hallways and garage parking is included.   However it often runs about 10 to 20% less than the market rent of other properties.

Social Connectivity Scores higher in the West Village Dallas area
Being close to key features of Uptown is going to simply promote more opportunities for meeting people. By being close to the West Village, Katy Trail and Uptown Trolley, Uptown101 has often given West Village Dallas apartments the highest Location scores (see our 4 factor scoring).

Summary
The appeal of The West Village Dallas is the variety of living spaces available, in close proximity to shopping, dining, entertainment, and free public transportation (including the Uptown Dallas trolley). Its location is very convenient to getting to work in that you are close to two major highways from which you can connect to any point in the Dallas area quickly and easily. The West Village Dallas has everything from mainstream to higher-end accommodations and establishments, so the variety of people you see here is lively and exciting.
Ready to find your perfect Uptown Dallas apartment?  Free Signup: Uptown Search.  Our service is 100% Free and we will find your perfect place to start your Uptown Dallas adventure. Talk to you soon in Uptown.