Patios and Parks in Uptown Dallas – Enjoy the Great Outdoors! 
One of the main reasons people love the Uptown Dallas area over Downtown is the amount of outdoor ways to connect. Uptown's social atmosphere is largely due to how many things there are to do outdoors. The businesses are known for their outdoor seating options; even the streets and sidewalks are designed for foot-traffic and outdoor fun! The active lifestyle of Uptown Dallas residents is obvious when you take note of all the things there are to do outdoors.
Most restaurants and bars have a large patio area, to see or be seen, especially prominent on McKinney Avenue. Most either have outdoor heaters or fireplaces for when it is chilly outside.
The Katy Trail Ice House, right on the Katy Trail, has a ginormous amount of chairs and tables situated right on the Katy Trail. Joggers can step off the trail and enjoy great food and beverages. (One great thing about the Ice House is that they put out free water daily for runners on the trail.) The Katy Trail Ice House is a popular meeting place for running and cycling groups, too, great for socializing before and after group runs or rides.
The Rustic- the Rustic is a unique venue, Uptown's only live music venue in which the stage opens up onto a lawn with full wait staff service, food and drink, even places to sit on the grass and enjoy the music while you eat, drink and socialize.
Walkability- With all there is to see and do Uptown Dallas, it is surprising how easy it is to walk to everything. Restaurants, bars, shopping, entertainment, even residences are within easy walking distance from each other. Even when the car traffic picks up in Uptown Dallas, everyone is very pedestrian-aware because of all the people enjoying the walk to and from their favorite places.
After you read the below insider info, sign up for our 100% Free-to-You Service to find your perfect apartment in Uptown or nearby areas (Lower Greenville, Knox Henderson, Deep Ellum, etc).  Our free, quick service will save you hours of time and remove your stress.  Free Signup: HERE      When you apply for your apartment, you will also receive a free $100 Amazon card as well as a thank you for using our free service.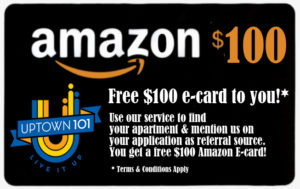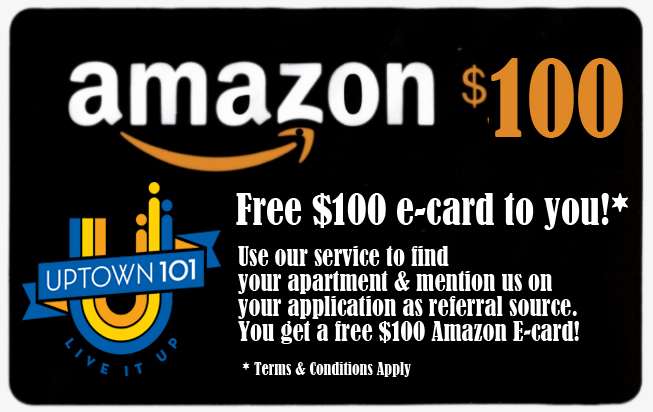 Parks
There are extensive areas of parks and green space, especially in the Turtle Creek area. There is no shortage of places to jog, walk your dog, or just bring a blanket and picnic to enjoy a sunny day (and there are plenty of sunny days in Texas!). The green space in Uptown Dallas and Turtle Creek is really what sets it apart from downtown where there is hardly any space outdoors for people to meet and relax. The trees in Turtle Creek are ancient and huge, lending to the charm of the area and the parks are no exception. All are very well maintained and clean, and dog walkers are very considerate to clean up after their pets.
Interesting fact: Dallas has one hundred nineteen square feet of green park space per person!
The parks in the Uptown Dallas and Turtle Creek areas include:
Robert E. Lee Park is located on Turtle Creek Boulevard and is considered the "jewel in the crown" of Dallas area parks. Picturesque and stately, it is not surprising to see a wedding or other celebrations being held here. Nearly $3,000,000 has been raised from private donors and invested in new park amenities and the breath-taking gardens of Lee Park. Yearly events include December's Light Up Lee Park, a stunning holiday light display that is very popular with Dallas residents and visitors alike.
Cole Park is located on Cambrick Street, between Cole and McKinney Avenue and is complete with its renowned tennis courts (six courts in all) and club, all with public access. There is a Facebook group called "Cole Park Tennis" where you can find potential tennis mates, doubles partners and leagues by joining.
There is the historic Griggs Park off Cedar Springs Road that is an eight acre park in the State Thomas area. This park has been recently renovated to include amenities for picnics, areas specifically for pets, scenic views and groves of trees for enjoying a quiet picnic, reading, socializing or even painting. Griggs Park has a rich history of once being part of Freedman's community, an area where freed slaves were welcomed and supported in starting their new lives in the Dallas area. The park is named after Reverend A.R. Griggs, a former slave and publisher of the first African American newspaper in Texas.
The Reverchon Park in the Crescent/Ritz area has a rich history of nearly one hundred years, established in 1915 in what was then far north Dallas. It was originally thirty six acres and designed to be Dallas' version of Central Park in NYC. More than thirty thousand people visit Reverchon Park every year.
There is also Pike Park, a historic park established in 1915, with ornate iron gazebos and a Spanish style recreation area located in Dallas' Little Mexico.
Be sure to visit Klyde Warren Park, a unique green space built over the Woodall Rogers Freeway on the border between Uptown Dallas and downtown. It is a 5.2 acre park, alive with daily events that include yoga classes, book signings, outdoor films and concerts. The public park is operated and maintained by the Woodall Rogers Park Foundation.
The Katy Trail
The Katy Trail is perhaps the highlight of all the green spaces in the Uptown Dallas area. It is 3.5 miles of tree-lined trail that is perfect for walking, jogging, cycling, inline skating and dog walking. People use the Katy Trail for more than just exercise; it is also a great cut through to avoid traffic congested hours on your way to your favorite places Uptown Dallas. With all the convenient entrances, you can get on and off the Katy Trail close to just about anywhere, plus it is green, beautiful and clean. The Katy Trail is one feature of Uptown Dallas that you will not find in any other urban setting. It is that great!
Summary
In most urban settings, we give up certain things like green space and parks for the conveniences available only in the city. Dallas is unique in that our city planners have been very careful to preserve and maintain our parks and recreational amenities, even in the heart of the busy, fast-paced Uptown Dallas district. There are plenty of wonderful places to go and relax, enjoy nature, get outdoors with your pet or just for a breath of fresh air. Living and working Uptown Dallas, you give up nothing. On top of all the perks of living in a young, urban, professional atmosphere, in Uptown Dallas there is also an abundance of greenery to enjoy. Literally, Uptown Dallas has it all!
Ready to find your perfect Uptown Dallas apartment? Text UPTOWN to 31996 or fill this out: Uptown Search.  Our service is 100% Free and we will find your perfect place to start your Uptown Dallas adventure. Talk to you soon in Uptown.