The Pearl of Uptown Dallas: Amazing Area to Live! 
Location
The Pearl Uptown Dallas area is the south most part of the Uptown Dallas border, near Pearl Street. It is on the North side of Woodall Rogers, separating Uptown Dallas and Downtown, so it is very convenient to live in this section if you work in downtown. It's known for a more quiet and luxurious feel, with high rises and quieter nights. Its location is still very convenient; you still have quick walking access to Uptown Dallas and the free Uptown Dallas trolley.  The Pearl area is directly connected to the VICTORY PARK and ROUTH SOUTH areas.  It's s safe and terrific area!
After you read the below insider info, sign up for our 100% Free-to-You Service to find your perfect apartment in Uptown or nearby areas (Lower Greenville, Knox Henderson, Deep Ellum, etc).  Our free, quick service will save you hours of time and remove your stress.  Free Signup: HERE      When you apply for your apartment, you will also receive a free $100 Amazon card as well as a thank you for using our free service.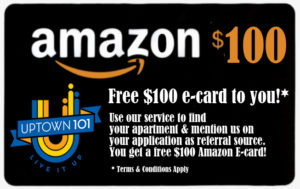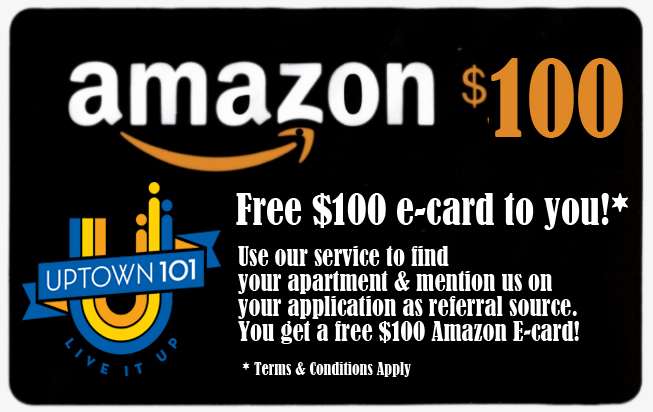 Socially Speaking
The social speed here tends to be quieter, as is the atmosphere. Very stately in appearance, the Pearl Uptown Dallas district has a very corporate feel with the presence of many high rises. In this district you will see many luxury cars, occupied by some of Dallas' most high-end corporate professionals and residents. The quiet elegance of this district is quite possibly its most attractive feature, with all the added perks of living in Uptown Dallas.
Don't think that the "quieter" nature of the area means that dull people live here! Professionals that live in this district tend to prefer higher end perks in their living and ensure a quiet experience in their residence at night, but still love walking to McKinney Avenue and other sections of Uptown Dallas to enjoy a great experience.

For Travelers
The Pearl Uptown Dallas section is a popular choice for management consultants and movers and shakers. That's because it gives very quick access to the airport, as well as to both downtown and to the Dallas North Tollway. The Pearl Uptown Dallas district is also only 5.1 miles from Dallas Love Field; just take Mockingbird to Harry Hines Boulevard and it's a straight shot to the airport. DFW Airport is a little further, 20.9 miles, but with quick and easy access to the I-35 Stemmons Freeway and 114 west, getting to the larger DFW International Airport from the Crescent Uptown Dallas district is still quite convenient.

Luxury Shopping
The Pearl Uptown Dallas section has a unique retail presence, including of course the Crescent building. This is a collection of higher end shops such as Stanley Korshak, a luxury retail venue for men, women and home that also includes a bridal salon, a full-service spa and in-store events for any number of occasions. There are exquisite restaurants in the Crescent Uptown Dallas district such as Palominos, a lively "Urban Italian" venue with a restaurant, bar and rotisserie. Palominos features authentic Mediterranean food and a creative and versatile menu. It is also known for its chef-inspired Bloody Mary, made with Stoli Pepper Vodka, an herbed and salted rim with a house-made garnish with mozzarella, pepperoni and Calamata olives. High end night spots also are here, such as Ocean Prime, a steak and seafood hot spot that also serves lunch Monday thru Friday, a very popular meeting place.

Hotels
The Pearl Uptown Dallas section also has two of the most famous hotels in all of Dallas: The Ritz Carlton Dallas, of course, a five-star hotel located on McKinney Avenue just south of Pearl Street, with its famous Fearings restaurant and bar and exclusive gift shop, Indulge.
The second hotel seems to be more popular with celebrities, namely the Hotel ZaZa, a boutique hotel that also has bungalows separated from the main building for a "bed and breakfast" type feel. For dining at Hotel ZaZa there is Dragonfly Dallas, open for breakfast, lunch and dinner. There is also the ZaSpa, a full-service spa for when you need to relax and be pampered. In the Crescent Uptown Dallas area, you will come expecting nothing but the best, and I promise you will not be disappointed!

Apartment Living
This area has primarily high rises with some mid rises. Many of the apartments here also feature 24 hour concierge service, garage covered parking, etc. One perk of the parking feature is that you can either walk to work (avoiding the parking fees in downtown). The concierge type of services provides much needed assistance for professional road warriors. And, some of the concierge services are better than others…one of our favorites is in this area. They always have 2 trained concierge service people 24 hours a day. Picture being able to wake up at 5 pm and then ask your concierge to take you to the airport with 10 minutes' notice, and then drive your car back to the high rise, all for the price of a nice tip! That is the type of living available in this area.
Note to those moving from NYC: In Dallas, buildings don't tend to have a doorman for safety purposes, but the 24 hour concierge takes care of most of the needs that a doorman would fulfill.

Easy Access to the 4 Key Uptown Dallas Attractions
The Pearl Uptown Dallas section has surprisingly quick access to the four main attractions of Uptown Dallas:
Uptown Trolley – Quick access to several stops on the Trolley, such as at McKinney and Pearl. Being near the Trolley gets you access to all of Uptown Dallas, and for free. The McKinney Avenue Trolley also connects Uptown Dallas with Downtown at the Cityplace/Uptown Station; easy access to the DART Rail as well as DART City Bus transportation.
Katy Trail – The Katy Trail can be walked to along the northwestern border where the Windsor at Turtle Creek is located by taking Pearl Street to McKinnon Street. This is about a ten minute walk from many of the places here.
McKinney Avenue Night Life– It takes about five minutes to walk to McKinney Avenue and to the Trolley spot at McKinney and Pearl. You can see all of the McKinney avenue bars, pubs and restaurants from there and get to them by just walking.
West Village – although this section is not close to the West Village, it's an easy trolley ride to get there and back. All of Uptown Dallas is only about two square miles, so even taking the Trolley it doesn't take more than a couple of minutes to get from one end (Crescent Uptown Dallas) to the other (the West Village).
The Arts District
In the Crescent Uptown Dallas district you are also within walking distance to the Klyde Warren Park which connects Uptown Dallas with the Dallas Arts District. Just on the other side of the Woodall Rogers Freeway is the Dallas Museum of Art, the Trammell Crow Center's Sculpture Garden, the Dallas Symphony and the AT&T Performing Arts Center. There is also the MAC, the McKinney Avenue Contemporary which is an arts space used for performance and visual art. There are a number of art galleries in this area as well, making it easy to find and purchase art for your new living space.
In addition to the arts district, there are also a number of cinemas and theaters nearby in this area, such as the Magnolia Theater which shows documentaries as well as independent films, and Theater Three and the Kitchen Dog Theater which produce modern, classic and contemporary plays.
Summary
Built mostly in the late twentieth and early twenty-first century "new urbanist" style, the Pearl Uptown Dallas district of Uptown Dallas is a combination of five star hotels, exquisite restaurants, offices, luxury shopping and private apartments with a foot-traffic friendly culture that makes owning a car totally optional. The area is especially popular with young professionals, with all the necessary amenities like grocers or dry cleaners within walking distance, all within a bustling urban environment. If an atmosphere of luxury high-rises and high-end professionals is your style, the Pearl Uptown Dallas district of Uptown may be just what you have been looking for.
Ready to find your perfect Uptown Dallas apartment?  Free Signup: Uptown Search.  Our service is 100% Free and we will find your perfect place to start your Uptown Dallas adventure. Talk to you soon in Uptown.