American Airlines Dallas New Hires  – Welcome! 
Considering a move to Dallas TX and working for American Airlines Dallas? Use our quick guide to tell you about the most popular areas for professionals here.  Many new American Airlines Dallas employees enjoy living a little east of the American Airlines HQ campus (in Irving TX), in the popular and more urban areas of Dallas.
There are several urban, exciting and entertaining areas to choose when selecting American Airlines Dallas Apartments.   We want to give you a few details about a few of the most popular areas in Dallas: Uptown Dallas. This area would be about 20 minutes from the Irving TX campus of American Airlines.   There are areas near there that we will talk about as well.

HOT SPOTS of Dallas for American Airlines Young Professionals
The main draw of the Uptown Dallas area and areas directly nearby is the high concentration of single professionals and a lifestyle that makes it easy for single professionals to live, WALK and play in very close area…no car needed.  I call these type of areas HOT SPOTS.  The Hot Spots of DFW are large concentrations of restaurants/night clubs and shopping all within walking distance. When you combine that with apartments that enable you to WALK to these night spots, you have the most popular living currently for singles in Dallas!
After you read more insider info about the areas near AA, sign up for our 100% Free-to-You Service to find your perfect apartment in Uptown or nearby areas (Lower Greenville, Knox Henderson, Deep Ellum, etc).  Our free, quick service will save you hours of time and remove your stress.  Free Signup: HERE 
When you apply, you will also receive a free $100 Amazon card as well as a thank you for using our free service.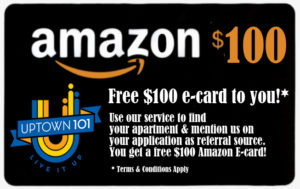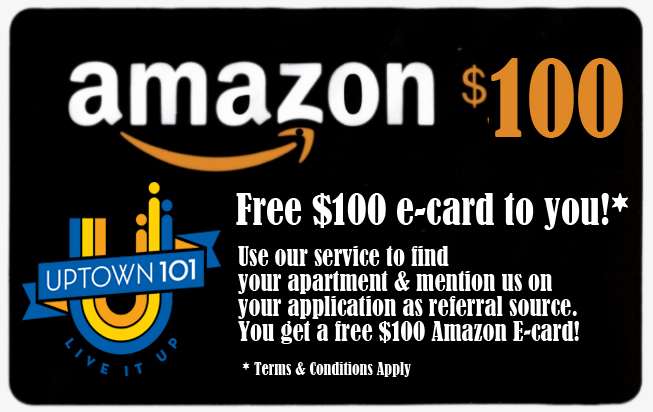 UPTOWN DALLAS
Let's talk first about Uptown Dallas. The most popular hotspot in Dallas for young professionals is absolutely UPTOWN Dallas. It makes a great choice for choosing when you are deciding between American Airlines Dallas Apartments.  There other areas directly nearby are also choices to consider, but keep in mind that the areas besides Uptown Dallas feed off of the demand and buzz of Uptown Dallas.
Uptown Dallas is known naturally for being a singles haven.  With so many restaurants, shops and nightclubs in walking distance, and being close to downtown and North Dallas, it is extremely popular!  This pedestrian friendly neighborhood has scores of art galleries and restaurants as well as notable hotels like The Ritz-Carlton, Dallas.
A vintage trolley along McKinney Avenue is provided for use at no charge. That's free…and it is huge to live near it!  Living near that trolley means you can get all up and down Uptown Dallas for no charge, even at night.
At the north end of Uptown is West Village.  This is a huge area that has shopping and restaurants and night life. It's a huge outdoor mall, but much more. It's actually the center of social activity in Uptown Dallas!

Key points of Uptown Dallas:
Most popular singles destination in Dallas, hands down
Best "walk to" lifestyle (walk to everything from your residence)
Free Uptown Trolley to get around Uptown
Dart Rail can be caught in Uptown and taken to American Airlines Center in Downtown Dallas
Convenient to Airport and to Irving
Walk to the Katy Trail access for exercis
Downtown Dallas
Bounded by northern I-45, I-35E, I-30 and the Woodall Rodger Freeway, the area that encircles Downtown Dallas is also called the Central Business District. After a brief slump in the 1990s, Downtown Dallas has emerged regenerated and reinvigorated, ready to do business and welcome residents. Older historic buildings are being renovated as urban lofts, which are often occupied by the young professional or the empty-nesters.  Downtown is considered secure overall.
Downtown has many cultural exhibits and art museums. It also contains the American Airlines Center and continues to add other wonderful things to visit.  One thing to note:  Activity seems to die down significantly at night.  Most professionals tend to go more to Uptown Dallas for socializing at night.
Advantages:
Direct and quick access from several parts of Downtown to American Airlines HQ, using the DART RAIL
The best old style lofts available are in Downtown
Walk to Arts District
Right by Uptown (can catch Uptown Trolley)
Place with the most high rises
Medical District Dallas
Just west of Uptown Dallas is an area called the Medical District Dallas.  This area is known more for hospitals and the UT Southwestern Graduate and Medical School.   It doesn't necessarily have a lot of attractions for singles. But it does have a few advantages:

Advantages:
It has a lot of more recently built apartments
It is only about 5 minutes' drive to Uptown Dallas
Rent is a bit more moderate in price than Uptown Dallas
IF UPTOWN DALLAS, Where should I locate?
The most popular of these areas is UPTOWN DALLAS.  That's because it has the highest concentration of young professionals and has the most well-known reputation for being the "in place" for professionals. There is no other close second.
Living in Uptown Dallas means that you will go "against traffic" if you commute to Irving, for example.  The bigger majority of the traffic will be going SOUTH in the morning, towards Downtown Dallas, and then NORTH in the evening, away from Downtown Dallas to Irving. But, for those that go the opposite way, you have a quicker commute that is drivable typically in 20 minutes or even under.
Uptown Dallas is actually bordered by three highways.  One of them is the North Dallas Tollway, which gives a "straight shot" almost directly to the American Airlines HQ in West Plano.  If you want to cut your commute time, it is very important to locate in a certain area of Uptown Dallas, rather than in other areas.
You can get to Uptown Dallas using 35 and 114.  You can then take Oak Lawn and go straight into Uptown, into the north part (West Village Dallas). That West Village section contains the most amount of American Airlines Dallas Apartments that are popular for living in Uptown Dallas.   If you locate close to Blackburn in particular, or close to the Katy Trail (within walking distance), you will have a much quicker "straight shot" to get out of Uptown Dallas to American Airlines in Irving TX.
However, if you locate more inside Uptown Dallas, such as on McKinney Avenue in the mid-section, or east of McKinney Avenue, you will have a longer commute.  In certain parts of Uptown in those sections, McKinney Avenue is one way and can be quite congested in the morning.   Locating in the State Thomas area can be great, but it will make a commute longer for those working with American Airlines Dallas.
If you locate more in the NORTH portion of Uptown Dallas, you are in the most active social scene area. It's the place to be able to use your limited time to the fullest and quickly enjoy your life, all in walking distance. From here, you can walk to:
If you are in that North portion, that would be the "sweet spot" for where to look for your American Airlines Dallas Apartments
Areas to AVOID Near Uptown Dallas
Areas that are EAST of 75 (East of Uptown Dallas) are less safe. Safety is more of an issue in these areas. Also, the commute time from these areas is much longer to get to American Airlines in Irving TX.
Next Steps
Reach out to us to set up a custom visual overview of the areas that are most popular with American Airlines Dallas. We will help you choose from the American Airlines Dallas Apartments that best fit your lifestyle. We can give you direction on where to locate that will be close to your new colleagues and in very popular areas in general for professionals. Reach out by using the GET HELP form on the top right.
Ready to find your perfect Uptown Dallas apartment? Text UPTOWN to 31996 or fill this out: Uptown Search.  Our service is 100% Free and we will find your perfect place to start your Uptown Dallas adventure. Talk to you soon in Uptown.