Uptown Dallas – A Quick Guide to the Six Uptown Dallas Neighborhoods
Welcome to Uptown Dallas! If you are considering Uptown Dallas as your new area to reside, you've probably heard that Uptown Dallas is also the most popular area of Dallas for professionals.  Uptown Dallas is once in a lifetime experience for professionals and recent college hires coming to Dallas…and you don't want to miss out!  To read more about what makes Uptown special, please see our article Uptown Dallas in Five Minutes.
But, deciding to be move here is only one part of your decision. The next part is this:  What neighborhood of Uptown Dallas should you live in?   It's important to know that Uptown Dallas actually has five different neighborhoods inside of it, and they will give you a very unique experience in each one of them.
Some neighborhoods are better for those who are road warriors.
Other neighborhoods are better for a quieter experience.
And, finally, some neighborhoods are just plain good for a non-stop social life!
Want to know more? Read on and see our 5 neighborhood descriptions and see which neighborhood matches your lifestyle.  By the way, our description goes from South to North Uptown Dallas, so let's tackle the south most part of Uptown Dallas first!
West Village
Turtle Creek
Victory Park
The Pearl
State Thomas
Routh South
After you read the below insider info about this area, sign up for our 100% Free-to-You Service to find your perfect apartment in Uptown or nearby areas (Lower Greenville, Knox Henderson, Deep Ellum, etc).  Our free, quick service will save you hours of time and remove your stress.  Free Signup: HERE 
When you apply, you will also receive a free $100 Amazon card as well as a thank you for using our free service.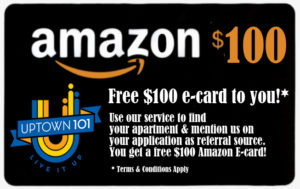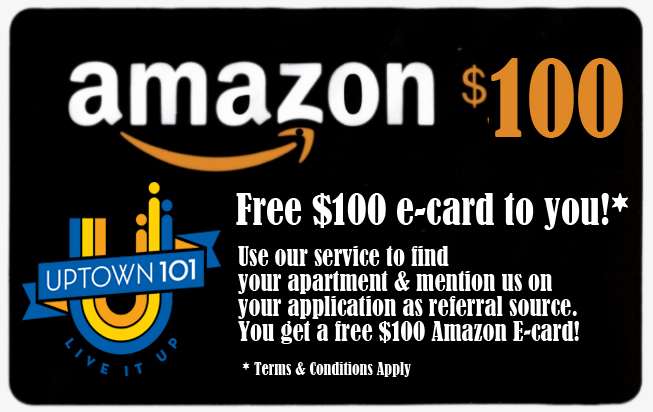 THE PEARL
The Pearl section is the south most part of Uptown Dallas. It is directly bordering Downtown, separated by the Woodall Rogers Freeway. This area is noted for having a very QUIET and LUXURIOUS feel.  It is a very clean area as well. What you will see here are mostly high rises, and many of them are quite expensive and beautiful. There is a wide range of styles here too, from the very modern Glass House to the more traditional luxury of choices like the Ashton.
The residents here tend to be very fast moving professionals that want a lot of convenience because they travel a lot or are very busy.  There are restaurants and night spots here, but not as many in walking distance, like other parts of Uptown. The age range here is probably the widest in Uptown Dallas, with professionals from their 20s to 50s here.  You could meet a young consultant from Bain & Company Dallas here, as well as a CEO of a downtown firm, using this for a third place for convenience. Living here means an extremely quick entrance into Downtown Dallas.
Also, the starting access point of the sleek and convenient North Dallas Tollway runs right along a key section of this area, providing a super quick exit to either the airport or north Dallas or West Plano.

Bottom line

: Quiet, luxurious, wide age range, super convenient and generally higher end for rent.  
WEST VILLAGE 
This area is the most northern point of Uptown Dallas.  It starts on the south basically around Lemmon Avenue and then goes up north to a couple of short blocks past Blackburn.  It is bordered by the Katy Trail on the west side and the 75/Central Expressway on the left. It includes the streets that are SOUTH of McKinney Avenue and then follows up McKinney Avenue up to about Lemmon Avenue (keeping on the EAST side of McKinney Avenue). You will find the widest range of living choices here. From high rises, to beautiful mid-rises of varying luxury levels, to even traditional apartments. There are also some excellent values at a moderate price here in this area, surprisingly.
The residents here tend to enjoy the ever expanding West Village Dallas shopping center. The West Village is a California style outdoor shopping concept, packed full of boutiques, chains, restaurants and night spots.  There is so much to do here, and to enjoy…with lots of patios to enjoy the social scene here. In addition to the actual West Village center, there are many other restaurants and night stops directly connected, just south of the West Village Dallas.  It's just very convenient to live here for a great social life in walking distance. Residents of this area also like that this area has quick access to the Katy Trail.
The Katy Trail is a walking/running trail that starts in Downtown Dallas, goes throughout Uptown and continues north. This area has quick access to the Trail by walking just a few minutes west of the West Village, along Blackburn, to the West Village entrance of the Katy Trail. The age range here is decidedly 20s for actual residents. However, it seems like it ranges much higher, because the amount of tourists, family and other visitors to the West Village Dallas is large…and constant. This is definitely the busiest part of Uptown Dallas, both during the day and the night. Living here means a good social life not only at night, but during the day. This is a super fun area to live.  If you work in N Dallas or West Plano, you can quick exit the West Village Dallas area on Blackburn and then take Cedar Springs to the North Dallas Tollway.

Bottom line: Best part of Uptown Dallas for quick walking access to night life AND day life, mid level prices, quick Katy Trail access, 20s primarily. 
TURTLE CREEK
This area is just west of the Mid McKinney Avenue and West Village Dallas areas. The Katy Trail is the border of Uptown Dallas in these areas, and the Turtle Creek is directly WEST of the Katy Trail.  This area has a LOT of greenery and park space.  It also has quick access to the Katy Trail, of course! To be technical, Turtle Creek is not truly Uptown Dallas, since the border of Uptown is the Katy Trail to the right of this area.  However, many people think of this section as part of Uptown. And, it has a very similar feel to Uptown (without the night life). This is a quieter area. It is very peaceful at night.  It also doesn't have any retail, shops or restaurants to speak of.
Residents will just have a short, quick drive to get to the West Village Dallas and other areas of Uptown Dallas.  Residents won't be able to quickly walk to anything, though.  That has some good and bad points. Residents like the amount of greenery here.  Also, Residents of this area want to enjoy Uptown Dallas, but want it to be quiet at night. They also love the quick access out of this area to the Tollway or to Downtown (using Cedar Springs). So, residents avoid traffic in this area. The age range here is VERY wide. Professionals here vary from the 20s to 50s and even beyond. There are not a lot of apartments here, only a few choices.  The land here is pretty much park area, office space and a little bit left, for apartment living.  That can be a great thing!   But, in addition, because it is just outside of Uptown Dallas, the rent is lower than Uptown Dallas.

Bottom line: Quiet pocket section, green, next to Katy Trail, quick access out to work, quick drive to Uptown Dallas attractions, moderate rent, wider age range. 
VICTORY PARK
This area is the newest of all of the areas.  It's bordering the Pearl area and Downtown as well and is often considered to be part of Uptown though it's not technically Uptown.  Wow, this area is wonderful!! It's light and bright and full of beautiful high rises for the most part.  And with the recent addition of the Tom Thumb, it now has an incredible walkable area that you could truly not have to use your car for most life activities.
Because of the better, newer buildings in this area, rent will typically cost a bit more than some of the other areas. However, many of the buildings here offer rent specials such as 1 month free to make up for the difference.  This is a great area to find an amazing view of Downtown or Uptown!
Bottom line:  Fantastic newer area, super high rise apartments with great amenities, catch the free rent specials to get a great deal.
STATE THOMAS
This area directly borders the Crescent Area. It includes the streets that are SOUTH of McKinney Avenue and then follows up McKinney Avenue up to about Lemmon Avenue (keeping on the EAST side of McKinney Avenue). You will find a very large choice of residences here, from luxury apartments, to townhomes and more traditional apartments. You will also find some of the largest communities in Uptown Dallas here.
The residents in this Uptown Dallas section are not as easy to categorize. They include primarily just out of school professionals as well as more elite professionals and higher end consultants.  The thing that they like about this section is the amount of trees and more of a neighborhood feel.  It's great to get out and walk around here and take a run. There aren't a lot of shops and restaurants here, but there are a few good ones…and they are mostly stand-alone choices (State and Allen Lounge is a great example).
But, some parts of this section are very close to McKinney Avenue, so it makes it easy to walk to a great night life in those parts.  Other parts of State Thomas are too isolated to quickly walk to things here, making it less fun…because Uptown Dallas is about quick walkability to your social life!   And, fyi, there is a big cemetery here. It is actually quite beautiful and very green, so many people enjoy living near it. The age range of professionals that live here is 20s to early/mid 30s.
Some younger professionals tend to stay in the section close to McKinney Avenue, while other professionals tend to stay in the townhome section. Parking can get VERY congested here.  There isn't a lot of interior parking for the apartments, so many people park on the street.
Also, if you have a longer commute (such as North Dallas or West Plano), the may not be the best area, because getting out of there in the morning can get tiring…lots of congestion around here due to McKinney Avenue. Fair warning!

Bottom line: Quieter area, varying apartment choices, more isolated in parts, 20s to early 30s. 
ROUTH SOUTH 
The Routh South area borders the Crescent Ritz area and extends more east of it. It also extends NORTH of McKinney Avenue, all the way to the border of Uptown (which is roughly the Katy Trail). You will find a WIDE range and style of living choices, from chic boutique style mid rises, to basic somewhat dated apartments here. This area also contains what little land is left in Uptown to develop, so it has some of the newest apartment choices here (Monaco on the Trail, etc.).
The residents here tend to be more professionals that want to be in a central part of Uptown Dallas and have quick walking access to the Katy Trail, but want to have the option for more quiet at night. While many out of towners visit the McKinney Avenue super cluster of night clubs and restaurants, people that live in Uptown Dallas will just as often visit the more "insider" restaurants and clubs that are in THIS section.
There really is a lot here in walking distance to visit, but it's not all packed together, like on McKinney Avenue. And, of course, this section is the closest to the KATY TRAIL, the ultra-cool walking/running trail that goes through Uptown Dallas. The age range in this section is going to be primarily 20s. It would be typical to see an accountant just out of college here, or an MBA from PepsiCo here. Or even a consultant from McKinsey and Company Dallas or the Boston Consulting Group Dallas.
Living here means you will get to walk to a lot of insider attractions. It also means you won't get stuck in the middle of what can be a very busy morning or afternoon traffic scene on McKinney Avenue Dallas…you pretty much get to avoid McKinney Avenue and can use Oak Lawn to get to the North Dallas Tollway or go straight to Downtown Dallas using Cedar Springs.

Bottom line: This area is convenient but very loud, with a lot of bars.  Recommending to stay in one of the other areas nearby so you can still WALK to this area but also get sleep at night! . Mid level prices.  Quick access out, low 20s age range.
Summary
Uptown Dallas is a terrific area to start your new life here as a professional. Knowing the different areas of Uptown Dallas in more detail will help you find a better fit for your lifestyle.  You have areas that are more social and active, and other areas that are more laid back. All of Uptown Dallas is social, but some areas are more so than others.    Make sure to read the additional articles to see more information about each area and reach out to us for more help on the best area and housing for you.
Ready to find your perfect Uptown Dallas apartment? Text UPTOWN to 31996 or fill this out: Uptown Search.  Our service is 100% Free and we will find your perfect place to start your Uptown Dallas adventure. Talk to you soon in Uptown.