Our Two Minute Guide to Choosing Your Uptown Dallas Apartment!
Hello from Uptown Dallas! Let's move quick and tell you some important factors to choosing the best Uptown Dallas apartment for you!
The 4 Keys of Uptown Dallas
There are 4 key attractions of Uptown Dallas you should know about. Determine which one or more of these are the most important to your lifestyle and then pick your place based on how far your apartment is from these!
Uptown Trolley – the free Trolley that goes north and south through Uptown.
The Katy Trail – the amazing free almost 4 mile jogging path that goes on the west side of Uptown.
The West Village – The great area in the north part of Uptown near 100's of stores, shops and restaurants. Being walking distance to these is so fun!
McKinney Avenue night life – up and down all of McKinney Avenue is a dizzying amount of great night spots to eat great food, enjoy friends and get your groove on! Many of these are located on McKinney Avenue, so you can access these using the free Uptown Trolley.
After you read our suggestions below, sign up for our 100% Free-to-You Service to find your perfect apartment. It will save you hours of time and remove your stress. We serve new grads & young professionals moving to Uptown and Dallas. Free Signup: HERE When you apply, you will also receive a free $100 Amazon card as well as a thank you for using our free service.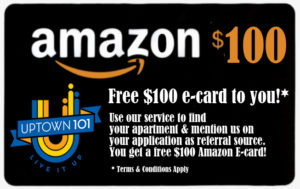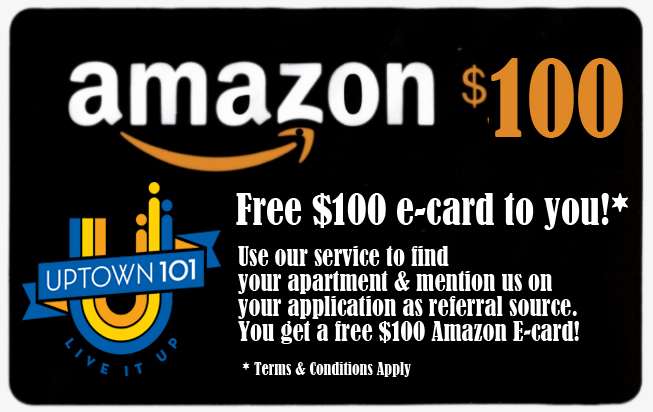 Here are FOUR Key Factors to Consider along with the 4 features mentioned above!
Factor 1: A Newer Apartment is Better!!
Newer Uptown Dallas apartments (up to 10 years old) are just going to have the more desirable features that were left out of apartments made 20 years ago. That includes the interiors that people tend to love, such as hardwood floors, more attractive appliances, and more green friendly (and lower utility) apartments. That also includes the amenities that people really enjoy, like a better pool, secure air conditioned hallways and other important, desirable features. People just like the new, and so newer apartments will tend to attract more of a "buzz", so people will want to be a part of this more. Further, newer apartments are built in the newer and more upcoming areas of Uptown, such as in the North area or near the West Village.
Factor 2: A High Rent Range is Better!
This little known fact is extremely important to getting a quality deal from one of the Uptown Dallas Apartments. Let me tell you what I mean. When you look over pricing of one bedroom plans and then look at the pricing of the highest level of floorplans found in that apartment, that gives you the Rent Range of an apartment. So, if you are examining one of the Uptown Dallas Apartments and the rent range goes to $1800 for their biggest 2 bedroom, that is an apartment that is not going to have the best amenities and the most value for the money. Instead, that is going to be an apartment that banks on you wanting to just be in "Uptown Dallas" without considering the overall value of the apartment.
On the other hand, if you see an apartment where you can get a studio in the $1200s or $1300s, but the highest priced floorplan is $2800 or more…now THAT is a MUCH better value in many cases. Why? Because if you are on the lower end of something like this, you are the "small house" in the rich neighborhood. You get to benefit from the higher priced apartments paying for better amenities and services (like concierge or hardwood floors or other niceties).
Factor 3: Locate a Block AWAY from McKinney Avenue, NOT ON IT
Let's explore this important criteria! It used to be "IN" to be right next to the bars/night life on McKinney Avenue in Uptown Dallas. But, with the emerging buildings and newly built areas of Uptown Dallas, being close to older bar section isn't always the best thing.
Because of the popularity to moving to Uptown Dallas, many of the most popular bars are not located on the older section of Uptown Dallas anymore. The older section of Uptown Dallas in the south is more known by tourists…but insiders of Uptown often prefer other alternatives.
Also, being close to bars means you are also close to a LOT of NOISE on the nights you are NOT going to the bars! And, in addition, bar proximity can be a source of crime as well. And, McKinney Avenue gets a lot of TOURIST traffic and is bustling. If you live on McKinney Avenue or even near it, your parking spaces will be taken up by tourists and visitors, making life super annoying for you and guests.
My take? You should locate just slightly OFF McKinney Avenue/the bar scene. If you locate just a block or so away from McKinney Avenue, it gives you quick walking access to Uptown Dallas, but you also can leave the noise ALONE when you want to get sleep at night. To sum it up: The party is always available, but so is your sleep!

Factor 4: QUICK WALKING DISTANCE is EVERYTHING in UPTOWN
One of the huge keys of living in Uptown Dallas is convenience. That means this: the more you can walk to the things that are important to you, the more desirable is that location. So, when choosing from one of the over 40 Uptown Dallas apartments, keep a good location in the forefront of your mind.
Summary
Ready to find your perfect Uptown Dallas apartment? Text UPTOWN to 31996 or fill this out: Uptown Search. Our service is 100% Free and we will find your perfect place to start your Uptown Dallas adventure. Talk to you soon in Uptown.
Uptown 101 gives you the most accurate and thorough information and hundreds of photos of each apartment. We don't rely on hype, but on valuable, exhaustive information to help you. We keep detailed records and hundreds of photos for each of Uptown Dallas apartments. We know the inside features and details of Uptown Dallas apartments that take years of experience to acquire. This is so you can get the best location and price that fits your lifestyle We will save you money and time when you use our service.