GALLERY AT TURTLE CREEK Apartments – INSIDER REVIEW
After you read more insider info about this apartment, sign up for our 100% Free-to-You Service to find your perfect apartment in Uptown or nearby areas (Lower Greenville, Knox Henderson, Deep Ellum, etc).  Our free, quick service will save you hours of time and remove your stress.  Free Signup: HERE 
When you apply, you will also receive a free $100 Amazon card as well as a thank you for using our free service.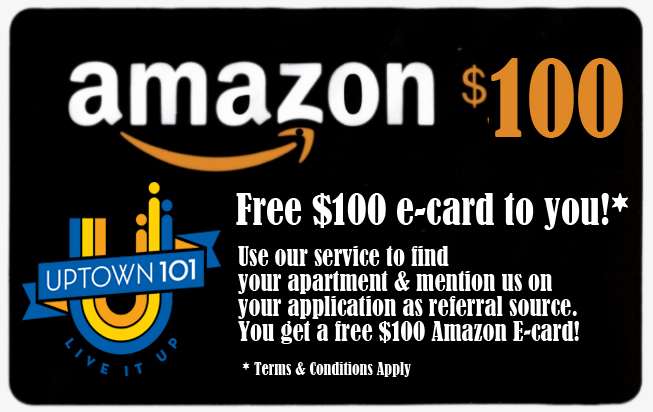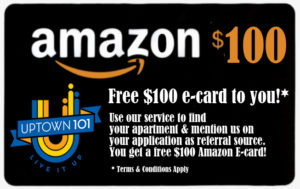 LOCATION
The Gallery at Turtle Creek apartments is a somewhat intimate, 8 story mid-rise in a quiet block of Turtle Creek, directly bordering Uptown Dallas. The location is about 5 blocks from McKinney Avenue, the main street of Uptown Dallas. The Gallery at Turtle Creek stands out, because it is the first new apartment building in the prestigious Turtle Creek area in over 10 years.
If you don't know the Turtle Creek area, let me tell you a little about it. It is a quiet and small area that is border by Turtle Creek, an attractive creek that runs along the border of Uptown Dallas. There are quite a bit of parks in the area as well, bordering the creek. This area also features the MANSION at TURTLE CREEK, a 5 star hotel with a well-known culinary presence in Dallas. To sum it up: This is an affluent, yet quiet area, with a lot of greenery, and extremely quick access to downtown, and directly connects to Uptown Dallas.
Walking directly around the Gallery at Turtle Creek apartments: You will see a lot of well-manicured landscapes and sidewalks to walk dogs on (and lots of dogs on them). There are a few single family houses, and small one story offices. And, there are 2 other apartment residences. There is no retail directly around you. Overall, you are in a quieter section.
Access Out to Downtown or North: If you work in downtown, you have a much easier way of getting out than your buddies that might live in Uptown Dallas. You can go down Cedar Springs and avoid the highly packed McKinney Avenue in the morning. Or, you can take the Cedar Springs and then turn on Oak Lawn, which turns into the Tollway….and you are flying north to go to North Dallas or West Plano for work.
Now, let's talk more about Uptown Dallas. If you want to live in the Uptown Dallas area, then that means you probably want a fun social life, right? So, it is important to be able to quickly access Uptown, especially to get to what we call the 4 Key Features of Uptown Dallas. So, let's see how the Gallery at Turtle Creek apartments does for getting you WALKING DISTANCE close to the 4 Key Features of Uptown Dallas:
Katy Trail – Being walking distance close to the Katy Trail means it is easier to stay in shape! And, it may mean a better social life! Well, the news is good…you can walk to one of the semi-private entrance points of the Katy Trail from the Gallery, in about 7 minutes. Good job, Gallery!
Uptown Trolley – Another of the key features is the FREE UPTOWN TROLLEY. The trolley takes you all through Uptown along McKinney Avenue. With the Gallery, you can walk to it in about 10 minutes…to the catch point at near Cole and Hall.
Night Life in Mid-Section – Many people think of the "super cluster" section of night clubs along McKinney Avenue as "the night life" of Uptown, even though there are several other terrific sections. (That cluster starts around Boll Street and ends around Holland, all on McKinney Avenue.) Residents of the Gallery at Turtle Creek Apartments can NOT truly walk to this section. However, a trolley ride or quick drive can get you there quickly.
West Village – The West Village is perhaps the most well-known spot of Uptown Dallas. It definitely is the largest concentration of shops and restaurants of Uptown Dallas in one place. It is important to be close, because there are great restaurants AND night clubs there in addition to the shops. You can't walk to the West Village from the Gallery, but you can get there in about 5 minutes with a quick drive. Or, you could walk to the free Trolley and then that will take you there.
Walk to Groceries? Walking to grocery stores is not really possible at the Gallery. But, it is a super quick drive to the Minyard's (and Walgreens) that is nearby, on McKinney Avenue near Lemmon. If you need more choices, check out nearby KROGER with organic, Texas grown produce, (drive on Blackburn and cross the freeway). You can also go to the wonderful WHOLE FOODS on McKinney avenue.
So, overall, you have quick driving distance to everything, but more limited walking distance to attractions.
Now, let's see what the social scene is like at the Gallery at Turtle Creek.
SOCIAL SCENE
The social scene of the Gallery at Turtle Creek apartments is still newer. But, we can tell a lot about how the overall social scene will shape up because of these factors:
The Katy Trail. You are walking distance to the Katy Trail. If you are not from Dallas, and haven't lived in Uptown Dallas, let me tell you why this is SUPER important to live nearby it (and yes, it helps your social life to be near it!):
The Katy Trail is super wide and can hold a lot of people. So, it works with biking, walking or even rollerblading. It is also semi private, so you can only access it from a few key points of Uptown Dallas.
Most people know the Katy Trail is a huge social focal point of Uptown Dallas. People that run on it want to meet other friends too.
So many people in Uptown Dallas now use the Katy Trail. And, many people use it not only after work, but during lunch and other times of the day.
Restaurants and Clubs in walking distance: There really are not any restaurants or clubs in walking distance.
The Amenities: The amenities are above average at the Gallery. The Gallery has spent some excellent money on the amenities that count, including the retail quality gym, the pool, the fantastic club areas and other features. They give a lot of space to enjoy and relax, as well as meet people.
Building Setup: The building setup will help you meet other residents. They have a common set of elevators and a common mailbox area, to give you easy ways to meet others.
Monthly Activities: Most Uptown Dallas apartments have a monthly activity to help you meet residents. The Gallery is the same. They feature events both on property (for ease) and off property (think Uptown Dallas bars) to help you get to know people. The number of events is average compared to other Uptown Dallas properties.
Size: The Gallery at Turtle Creek apartments are a LARGER property, with 392 units. That means a great social scene on site, with plenty of opportunities to make friends.
To sum it up: The building is well designed and the social events will help you meet others. You have the Katy Trail also, a big help in meeting people. There are not as many things to do in quick walking distance, so you need to count on quick drives to events and places.
APARTMENT
Style: The Gallery at Turtle Creek apartments has developed some attractive layouts. The apartments are a "soft loft" style, meaning that they have hardwood floors, but also white walls, with some nice fixtures and finish outs inside. The Gallery at Turtle Creek apartments also includes some concrete elements to further enhance that loft feel, with exposed concrete beam and concrete CEILINGS as well.
Variety of Floor Plans: They offer small one bedrooms and 2 bedrooms. They also offer a smaller studio unit that, although small, is very nice on the pocket book (starting in the $1100s typically).
Features: Let's see what features are included in the Gallery at Turtle Creek apartments, and how they compare to other places in the Uptown Dallas area:
Hardwood style floors – Every apartment has hardwood floors in the living and dining areas. Typically carpet in the bedrooms.
Lots of Windows and Natural light: The Gallery at Turtle Creek apartments does a good job with their design to include many windows in rooms, giving much natural light. The amount of windows is better than average for Uptown Dallas apartments.
Newer appliances – Appliances are newer and attractive. Think stainless steel appliances.
Granite Countertop – Throughout the kitchen and bath.
Nice Size Closets – The Gallery has more than enough space in their closets. Great job, Gallery!
Great Views of DOWNTOWN – Because of the abundance of windows, you have some great views, especially on the higher floors! You can see downtown, Uptown Dallas and other areas. Nothing much to block your views here either, especially on the floors 4 and above.
Washer/dryer IS included – Typically for newer apartments in the Uptown Dallas area, they will include a washer/dryer set. The Gallery does not.
Although the Gallery at Turtle Creek apartments is above average in their apartment, they also have some weak spots…namely:
No walk in showers – The apartments here have the standard TUB style of shower/bath combo. You have to shower rings and a shower curtain, etc.
Patio/Balconies not included: A majority of the units do not have patios or balconies.
Kitchens are a

little

small – Ok, I know that an apartment kitchen is just normally not going to be big. This is NOT a super small kitchen, but I think it is a bit smaller than the average Uptown Dallas apartment kitchen. =
Overall, the Gallery at Turtle Creek apartments is an attractive design with pleasing interiors and features, and above average in comparison to other Uptown Dallas apartments.
NOTE: There are 2 types of floor plan STYLES. The standard and the higher end style. If you visit, definitely take a look at the higher end one bedroom. It has floor to ceiling windows and a more upscale look that I kept thinking about even after I left.
AMENITIES
The Gallery at Turtle Creek apartments take it up a notch in their amenities. They put real thought and innovation into them. Here are some of the highlights. Please see our REAL VIEWTM Gallery for photos!
The Club – Unlike many Uptown Dallas apartments, the Gallery at Turtle Creek Apartments takes the "club room" area from an afterthought to an experience. If I didn't know that this was an apartment, that club could belong on McKinney Avenue or Downtown Dallas. It is a large mostly open air area that overlooks Uptown Dallas, but with a completely covered ceiling. It has many places to sit and relax, and even has a very stylistic, curved bar area. The area is perfect for relaxing or enjoying some great times with friends. This is my favorite club room in all of Uptown Dallas.
The GYM – WOW. The gym rocks! There are 2 levels, with the first floor being aerobics, and the 2nd floor being some SERIOUS weights. Finally, an apartment gym that truly has free weights, and plenty of them!
Controlled Access and Climate Controlled – Hallways and elevators are secured. They require an electronic device that attaches to your key chain. And, being climate controlled, you relax once you are in doors, and you save money because when you open the doors, you don't let heat or air conditioning out.
Parking Garage INCLUDED – Your car is covered.
VISITOR PARKING…INCLUDED – The first level of the garage is open for visitors. There is a good amount of spaces, not an enormous amount.
Pet Run and Grooming Station – Very nice feature and right on the property.
There are a few areas that the Gallery at Turtle Creek apartments could do better with their amenities. They are:
Laundry room not included – Washer/dryer units are not included, only hookups. Any time that a residence doesn't include those, they should always include a laundry room on site for convenience. The Gallery does not include a laundry room.
Trash chute in garage, not interior – In a rather strange design choice, the trash chute is actually in the garage on the first 4 floors. Typically, apartment buildings include these inside the hallways on each floor. How odd!
No ATM or Movie Rental – The building doesn't have a grocery store in walking distance, so it would be a good idea to include an ATM or Movie Rental machine. The Gallery doesn't.
Overall: Amenities are imaginative and fun! You will enjoy these.
SUMMARY
The Gallery at Turtle Creek apartments is a good choice for those who want a quieter residence at night, but still want to be quick driving access to Uptown Dallas or the airport/Tollway. The location is very green, and includes the Katy Trail in walking distance. You must drive to get to other features of Uptown, but the drive is quick. The Amenities are some of the most unique in Uptown and worth seeing.