Gables Park 17 apartments – INSIDER REVIEW.
After you read more insider info about this apartment, sign up for our 100% Free-to-You Service to find your perfect apartment in Uptown or nearby areas (Lower Greenville, Knox Henderson, Deep Ellum, etc).  Our free, quick service will save you hours of time and remove your stress.  Free Signup: HERE 
When you apply, you will also receive a free $100 Amazon card as well as a thank you for using our free service.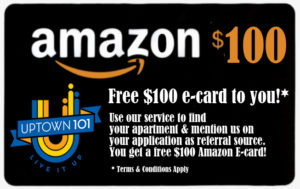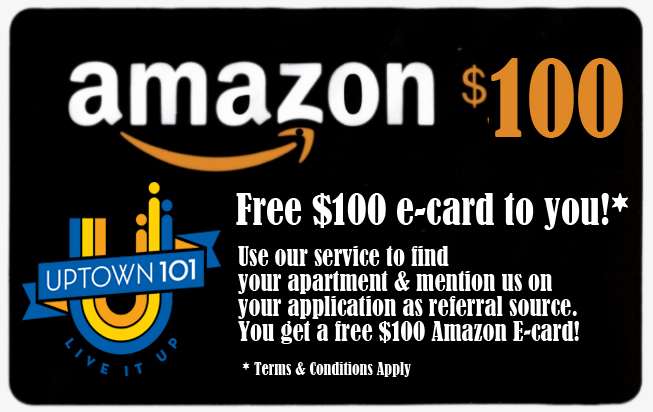 LOCATION
The Gables Park 17 apartments (high rise) in Uptown Dallas is definitely elegant and professional looking. It is a recently completed building, complete with a parking garage and a concierge. It actually lies on the edge of Uptown Dallas (not technically in Uptown), and people could mistake it for being downtown, except that it is located pretty much where McKinney Avenue ends (Mckinney Avenue is the main street of Uptown Dallas).
Gables Park 17 is surrounded by other office buildings primarily, with the familiar feel more like Downtown Dallas. There is a much lighter amount of walking traffic nearby than downtown, as well. To sum it up: It honestly feels more Downtown Dallas, but with the advantage of being quick to get out of and less busy.
By the way, being in this area…I feel safe. Generally, Downtown Dallas is safer than most downtowns. But, this area feels much safer and has less activity. Not only is the Park 17 building very nice looking, but so are most of the surrounding buildings. It is a clean area to be in as well.
Getting to work: If you work in Downtown Dallas, well, this is a slam dunk. You can walk to work or take the Dart Rail if needed. If you work in North Dallas, or need to get to the DFW airport frequently, you have a very quick access to the North Dallas Tollway using Cedar Springs. You are on the Tollway in a few minutes…and can then zoom to North Dallas, West Plano or the North Dallas Tollway.
Access to the 4 Key Features of Uptown Dallas: There are 4 Key Features of Uptown Dallas that get you access to a better social life and fun. For Uptown Dallas, a huge key is being in QUICK walking access to these features. We think quick access means to be in 7 minutes walking or under. Here is how Gables Park 17 apartments does in terms of being able to walk to the 4 Key Features of Uptown:
Uptown Trolley – Gables Park 17 apartments is definitely walking distance to the FREE Uptown Trolley. That trolley will take you to all 4 key features, along McKinney Avenue. The Gables Park 17 apartments is within about 7 minutes walking distance to the pickup spot at ALLEN and MCKINNEY AVENUE.
Night Life in Mid-Section – There is a "super cluster" section of night clubs along McKinney Avenue around Boll Street. The Gables Park 17 apartments is NOT within quick walking distance. I would take the trolley or take a quick ride (just a few minutes) on McKinney Avenue.
West Village – The Gables Park 17 is on the border of Uptown Dallas, at the most south point of Uptown. In the NORTH of Uptown Dallas, there is the WEST VILLAGE, with so many shops and restaurants, all in a few blocks. The West Village is NOT in walking distance. Need to drive to get there, probably will take 7 or 8 minutes.
Katy Trail –The Katy Trail (the wonderful semi private running trail that goes through Uptown Dallas) is accessible via the VICTORY OVERLOOK entrance. This is walkable in under 7 minutes. Nice!
Walk to Groceries? No. The best bets for getting groceries will be:
Minyard's on McKinney Avenue (8 minutes' drive)
Whole Foods on McKinney Avenue (walk or hop on the free Trolley)
Tom Thumb in Victory Park
Overall Location: The location is quieter and very clean. It has very quick access to downtown, and has walking access to 2 of the 4 key Uptown Dallas features. It has some limitations for weekend and daytime enjoyment in walking distance (West Village, Night life, etc.), but a quick drive can take care of that.
Now, what about the social scene at the Gables Park 17 apartments?
SAFETY 
Please note that we have serious concerns about safety issues at this location.  Although the apartment itself is very beautiful, crime has occurred at this location that is serious in nature.  If you are interested in this location, please make SURE you carefully research the safety measures and features in place.
SOCIAL SCENE
The social scene of the Gables Park 17 apartments is good, but quieter than other Uptown Dallas choices. Here are the reasons:
Area attractive: This is really a beautiful area of Uptown/Downtown. I like it much better than downtown, definitely, because it is clean and attractive…and as I mentioned previously, feels safe. This helps in creating a good social scene.
DOWNTOWN: There really are quite a few places to quickly get to, and being closer to downtown makes that even easier. There is the obvious: sports (Mavericks, Stars) and live concerts at the AA Center that is in WALKING distance. You can also visit the Arts district that is just about 4 minutes away. You also have Klyde Warren Park, Perot Museum, and the Katy Trail entrance. Translate: Plenty of "cool, trendy" places to enjoy.
Restaurants and Clubs in QUICK walking distance: There are not a lot of restaurants in walking distance, although there are a few great ones! Stampede 66 and Lark on the Park comes to mind. But, for enjoying a lot of the walkable restaurants Uptown Dallas is famous for, there just aren't a lot of them close to the Gables Park 17 apartments.
Building Setup: The Gables Park 17 is a central building and it offers many interaction points for you to meet other neighbors. It has a common mailbox area and a common parking garage. There is also one main set of elevators and building access. You will have plenty of opportunities to meet others here with the smart building setup.
Monthly Activities: Many Uptown Dallas apartments has have SOME sort of monthly activity to help you meet other residents. The Gables Park 17 takes it up a notch. They not only have monthly activities, but they also host WEEKLY happy hours and even breakfasts for residents. I think that is a record for even Uptown Dallas. Very strong activities calendar here!
Size: The Gables Park 17 has 25 stories, but only 292 apartments. That is not much for each floor. You get a lot of breathing room for each floor.
The Amenities: The amenities of Park 17 are well above average for Uptown. The amenities floor is one of the most extensive in Uptown. Then, there is one of the most stunning terrace pools I have ever seen. The attractive, alluring amenities draw residents to them, and you will have plenty of opportunities to meet others at them.
To sum it up: The location itself is quieter, but the amenities and social activities available make this a stronger social scene in Uptown Dallas.
APARTMENT
Style: The style of the Gables Park 17 apartments is modern but sensible. There are some very attractive kitchens, living rooms and bath areas, complete with beautiful floors, sparkling appliances and other innovative features. They really get the modern feel right, but without going overboard or being "too" artistic. The apartment is very inviting and comfortable feeling. Perfect place for having a small party to impress.
Variety of Floor Plans: This is a luxury high rise, but the floor plans include some one bedroom choices comfortably under $2,000. However, there also are the 2 and three bedroom floor plans. And, of course, since this is a high rise, there definitely are some huge penthouse suites.
Features: For me, I found the Gables Park 17 apartment had these Strengths:
Gorgeous Kitchens – The kitchen just didn't have any weak spots. Pretty green subway backsplash tile. Plenty of cabinet space…PLENTY! Even glass front cabinets. Sooo nice!
Granite Countertops – They were thick and beautiful.
Hardwood Floors – Not only are they pretty, but they were the GROOVED kind. Not hand scraped, but close. (I wish the floors were a little lighter, because it would make things look bigger and more inviting.)
Patios/Balconies INCLUDED – And that is a big deal, because you have some fantastic views here.
PLENTY OF GLASS – All glass walls that look over Downtown and Uptown Dallas brighten up the apartment big time!
Newer appliances – Stainless steel appliances, and higher tier brands as well. They didn't cut corners on this one.
Nice size Closets – These closets are large, love them!
Programmable Thermostat – This is a BIG deal! If you travel a lot or don't work out of your apartment, would it be nice to have your thermostat adjust to make your utilities cheaper while you are gone? Only a few places in Uptown have this great feature, and Park 17 is one of the few.
Washer/dryer INCLUDED – very nice.
Normally I always mention AREAS OF IMPROVEMENT. The Gables Park 17 didn't have much to speak of, with the exception of:
No walk in showers – Not many people I know use a tub much. Instead, we love the walk in shower. The Gables Park 17 had the standard tub/shower combo, however.
No Gas – Really would like to have seen gas ovens here. Not that the oven was bad, it was nice. But, just not gas.
Overall, this is very modern and sleek apartment that will impress.
AMENITIES
The amenities at the Gables Park 17 are almost over the top…really Big and FUN. They are very well thought out and innovative. I also like that they didn't seem to spare much expense in building these! Please see our REAL VIEWTM Gallery for photos!
Let's take a look at some of the Strengths:
Amenity DECK – HUGE feature. It's hard to put this into words how fun and LARGE this is. Picture an almost never ending hallway of fun rooms to enjoy and walk to. The Movie Room. The Poker Room. The Billiards Room. The Game Lounge. VERY innovative and fun!
Rooftop Terrace – The terrace is one of the largest I have ever seen in my life. Complete with mini fountains, curved chairs and a super-sized pool. It is so big that I almost forget I am on a roof here…feels more like a resort.
True 24 Hour Concierge – It's really rare to have a concierge. It's even rarer to have a 24 hour concierge…and Gables Park 17 does. They are one of very few places in all of Dallas that have this.
GUEST parking INCLUDED: Guests CAN park for free in the garage. Very nice plus! They must get their tickets validated at the concierge.
GYM – The gym is larger. It has plenty of space for cardio equipment, and even a separated specialty room (think yoga). Decent amount of free weight equipment, but not for hard core body building.
BARK 17 – On the first floor of the building is a separate closed off area called BARK 17. Has a large size artificial grass area and a pet washing station. You don't have to leave the building to walk your dog. Finally, a high rise got this right!
Views of Downtown – And, yes, this is a high rise! So, starting from about floor 10, you will have great views of either downtown or Uptown or North Dallas.
LEED CERTIFIED – This is one of the very few buildings in all of Uptown Dallas to be LEED certified. They are SILVER level. This means energy efficiency and green friendly.
Here are just a few AREAS OF IMPROVEMENT:
Parking Garage Space – There is only one parking space included per apartment, even if you have a 2 bedroom. You can get additional spaces, but they cost $85 a month. This is actually not bad if you compare this to a downtown high rise, where the parking is typically never included. But, compared to Uptown, it's not as good because most places give you free parking for 2 people.
Amenity Fee – a fee of $15 per month is charged per apartment for the amenities. This is a mandatory fee. This is not large, but most places don't charge a fee in Uptown (a few do).
Pet Rent – They do charge $15 a month for pet rent, per pet. Same as the amenity fee…not a huge amount, but it still is a fee. This is not the norm, but several places in Uptown definitely charge for your pet each month.
Overall: Amenities are well ABOVE average for Uptown Dallas.
SUMMARY
The Gables Park 17 is a classy (and somewhat splashy) high rise on the border of Uptown and Downtown. It has one of the best interior finish outs in all of Uptown Dallas. It doesn't have as much to quickly walk to. However, it has plenty to drive to in just a few minutes and is in walking distance to the free  Uptown Trolley. The amenities are extensive and fun.