Uptown Dallas Dog Friendly Features & Areas
Want to know an easy way to make friends in Uptown Dallas? Get a dog! In Uptown Dallas, you may be surprised at just how dog-friendly the people and businesses here are. Not only do most apartment buildings encourage dogs, they also have in-house dog parks, dog runs and some even have wash/groom stations! There are even a great number of restaurants that not only encourage you to bring your pet, they also have services to help care for your dog while you grab a bite to eat or a beer. There is no other hot spot in Dallas that is as pet-friendly as Uptown Dallas!
After you read the below insider info, sign up for our 100% Free-to-You Service to find your perfect apartment in Uptown or nearby areas (Lower Greenville, Knox Henderson, Deep Ellum, etc).  Our free, quick service will save you hours of time and remove your stress.  Free Signup: HERE      When you apply for your apartment, you will also receive a free $100 Amazon card as well as a thank you for using our free service.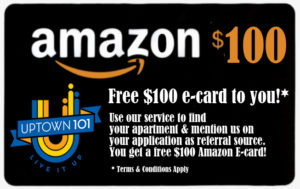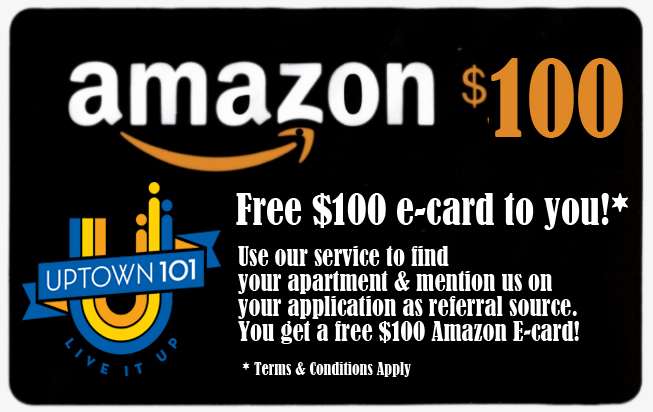 Dog-People
If there is one thing that brings dog lovers together, it is man's best friend. Even people who don't own a dog will stop and make conversation about your dog! I mean, who can resist an adorable mutt? A great ice-breaker and conversation starter just about anywhere you take your best little companion. You will find yourself drawn to other dog lovers, too; there are so many places Uptown Dallas that not only encourage dogs, they cater to them directly! A dog is not only great for companionship; they are loyal, warm, and love you unconditionally. They are also a secret weapon when it comes to meeting people!
Dog Parade
Every October there is an annual dog parade called Dog Trot and Treat at West Village. It is a yearly event in which dogs are dressed in their finest (and funniest) Halloween costumes and parade a route around the West Village. There is a $20 entry fee for each dog (people are free); the proceeds go to the Friends of the Katy Trail. After the parade, people continue to walk around to socialize with other dog owners and to visit the different venues in the West Village, most of which have some special going for dogs and their owners to celebrate the event and bring in business. It is a very fun event, with people laughing and taking lots of photos. It is usually covered by local news as well. A perfect opportunity to show off your dog, your costume creativity and Halloween spirit, as well as meet new people!
Mutt's Cantina
Mutt's Cantina is a restaurant and bar that caters specifically to dogs and their people. There are organized groups of dog owners that meet here or you can come and hang out by yourself with your dog if you like and meet people while you're here. There is a two hundred seat beer garden-style patio and lawn that is perfect for grabbing some good food and a beer and chilling with your best friend. You can even work from the patio using Mutt's free Wi-Fi or sit underneath the beautiful Oak trees and soak up the sun.
Dog Park at Mutt's
Mutt's has a one-acre off-leash dog park called Best Friends that is surrounded by a six-foot fence, has rest areas and benches, as well as separate areas for both small-breed and large-breed dogs to socialize, exercise and enjoy the beautiful outdoors. Dogs and people both love the Best Friends dog park. There are also full-time Mutt's attendants there to provide water and snacks and even pick up after your pet while you grab a coffee, bite to eat or a beer to enjoy on their open air patio.
Living Arrangements
Just about every apartment in Uptown Dallas is extremely friendly to dogs. Many of them have interior dog runs so that you don't have to leave the property to take your dog out. Others have directly attached dog parks or even dog parks inside. They provide washing stations as well. Many residences even cater to dog owners by hosting events to meet other people.
The Dog Lofts
The Dog Lofts Uptown Dallas is a facility that provides boarding and daily dog-sitting services. This service is great for professionals that have long work days or who travel frequently. The Dog Lofts has a board and play policy, so you know when you leave your pet in their care, they will be cared for and played with just as if they were at home with you. There are also four clinics associated with the Dog Lofts that provide full service vet care for your pet, including emergency care, vaccinations and spay/neuter services. They also believe that quality care, medicines, food and pet supplies should be affordable for pet owners and have a knowledgeable staff to answer any and all questions you may have about caring for your animal.
The Katy Trail Animal Hospital
Located conveniently on McKinney Avenue, the Katy Trail Animal Hospital is designed for superb animal care as well as surgery and pharmaceutical needs. They even offer alternative medicine care, including practitioners who specialize in acupuncture, chiropractic care, massage and Chinese herbal medicines. They also offer boarding for your pet and provide an environment in which the physical and mental stimulation your pet needs are attended to with loving care and kindness.
Prestigious Pets
Prestigious Pets is a dog walking and running as well as pet sitting service located in Uptown Dallas. They have fully trained sitters and walkers/runners that are knowledgeable about and sensitive to your dog's needs, and provide services for all manners of pets. A Prestigious Pet Sitter will treat your dog as well as you do, as they fully understand your dog is a part of your family. They are a proud member of Pet Sitters International, an organization that provides training as well as pet sitter certification, insurance and bonding for professional pet sitters such as Prestigious Pets.
Dog Friendly Restaurants
There are over one hundred restaurants in the Dallas area that encourage you to bring your dog with you for dinner. Among them are the Katy Trail Ice House, located on the Katy Trail in Uptown Dallas; also in Uptown Dallas is the Dream Café that has a huge outdoor patio that welcomes dogs. The Uptown Pub is a pet-friendly bar and favorite spot for an evening out with friends and pets! Even the Hotel ZaZa's Dragonfly restaurant is open to dogs! Talk about a posh outing for you and your best friend!
Summary
Suffice it to say, Uptown Dallas is more than just dog-friendly. Uptown Dallas is designed just as much for your canine companion as it is for you! With top-notch vet care, boarding, pet sitting, dog walking services, indoor and outdoor dog runs and dog parks, not to mention all the restaurants and boutiques that cater to you and your pet, Uptown Dallas is possibly the most dog friendly zone in all of Texas!